12-Year Journey Comes to a Close
Local artist completes carvings for Tacoma church
April 1, 2019 at 12:00 a.m.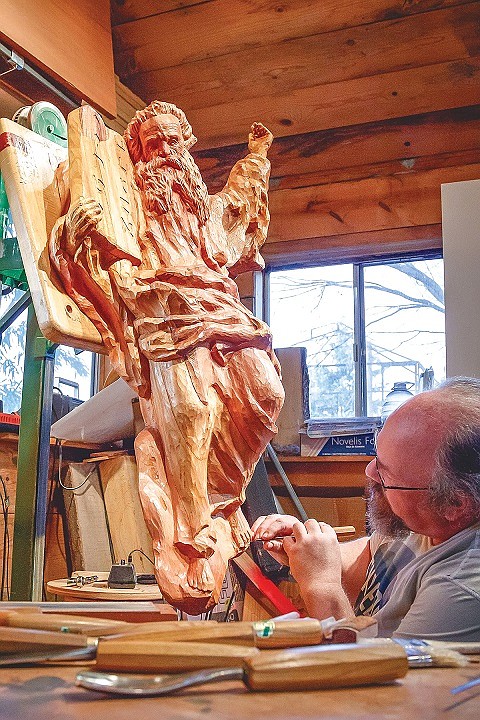 ---
A local artist wrapped up over a decade's worth of work, creating seven relief carvings of well-known Biblical figures for Faith Presbyterian Church in Tacoma.
Dale Woodard, who might best be described as classically trained in woodcarving, initially offered the church one small piece of art for a new wing of the campus. But then Dale said, "Small would not do it, and it turned into seven large pieces that take up an entire wall in the entry."
The figures, which measure between 44 and 48 inches tall, are relief carvings in Honduran Mahogany depicting Samson, Rahab, Noah, Moses, Cain and Abel, and Naboth; the final carving, completed on February 17, is Abraham and Isaac.
This project combines current technology with the traditional method, making sketches and clay models first and then scanning them into a computer for rough machining of the wooden block. Dale then finishes with a chisel and mallet.
Dale trained at the Geisler-Morodor Carving School in the Alps of Austria, where the family-run school has been in the carving business for 500 years.

But Dale's love for carving was born in the Boy Scouts, where he learned to craft neckerchief slides. His first efforts were less than perfect, but a lifelong passion was ignited.
Dale grew up in the rural area northeast of Spokane on the Washington/Idaho border. "I would dabble in carving on and off," recalls Dale. "but in high school sports became more important, and after that college became more important."
Dale spent most of his career as a freelance computer programmer, as well as working for Boeing and the City of Tacoma. But throughout his career, he kept up dabbling as a woodcarver.
"After I got married, I decided to carve my wife a Santa Claus every Christmas. In 2001, we decided, 'Why don't we do this fulltime.' I had heard about the school in Austria and decided going there would be the best thing I could do." His wife, who trained as an artist in the Soviet Union, joined him at the woodcarving school to learn their traditional painting techniques.
"When I first walked in and saw people's work, I thought, just pack your bags and go home. But I stuck it out. It was an amazing time. I went there in 2002 for three months and went back for another three months in 2003. I learned to carve wood correctly, to do it well and quickly," said Dale.
An award-winner in juried shows, Dale has exhibited his work in several public venues and writes for wood carving publications. His work is not limited to Biblical themes; Dale also creates wood sculptures as diverse as Native American carvings, Christmas themes and fairy tale subjects. Dale reported, "I'm more than happy to have people come out and watch me work in my studio. It's out back in the garden." For more information about Dale Woodard, visit www.anaveta.com.
---