Taproot Theatre's "Baskerville" Is a Hilarious Romp Through a Sherlock Holmes Mystery
September 24, 2018 at 12:56 p.m.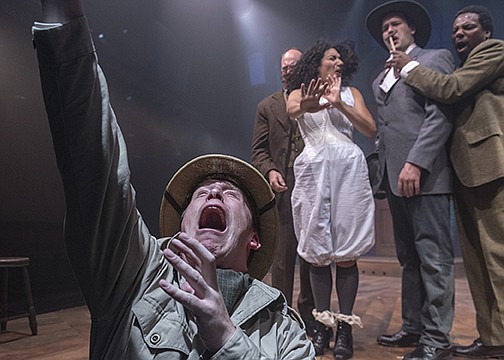 ---
---
Taproot Theatre's latest production Baskerville feels like the mashup of a Sherlock Holmes murder mystery and a Marx Brothers movie. The plot begins with the usual murder, but the next moment it's obvious that this is no ordinary Sherlock Holmes play as the murdered man quickly morphs into a young woman in Holmes' apartment. From there, things become even more zany as this fast-paced show twists and turns its way through a plot that plays second fiddle to the brilliant, hilarious hijinks and character changes that continue for the full two hours.
It's also a unique show in that the stars of Baskerville are not Holmes as brilliantly portrayed by Michael Patten or Watson played by Reginald Andre Jackson. The true stars of Baskerville are the three other actors (designated as Actor 1, Actor 2 and Actress 1) who marvelously morph from one character to another, sometimes right in front of the audience. Those three actors - Eric Hampton, Nick Watson and Elizabeth Keck steal the show with their amazing shifts, changing wardrobe and accent to conjure up some thirty-five characters in a dizzying show that keeps the audience laughing and involved from opening curtain until the murder is solved.
Here's how Taproot describes the show:
Sherlock Holmes is back and searching for clues to explain a mysterious death on a haunted moor. Five fearless actors conjure over 35 characters to deliver laughter and chills in this dizzyingly inventive adaptation of The Hound of the Baskervilles. Bite your nails and howl with delight as Holmes and Watson face their most diabolical case ever.
And the show never misses an opportunity for a laugh, as when the announcement comes following the intermission - "Previous on Baskerville." At some point, the audience even seems to forget that there is a murder to be solved. That is most obvious when the characters break the fourth wall and begin "hiding" incognito amongst folks in the first couple rows. This gag comes off particularly well within the confines of Taproot's intimate theater.
All in all, Baskerville is a wonderfully acted and staged show that has everyone leaving with a smile. It truly is a welcome hilarious respite from the reality of daily life. Baskerville continues at Taproot through October 20.
L. Steven Sieden is a writer, event producer and global futurist. His books include "Buckminster Fuller's Universe" and "A Fuller View, Buckminster Fuller's Vision of Hope and Abundance For All". He has been reviewing Seattle area theatre and live entertainment since 2012.
---