Dorothy Clicked Her Heels Three Times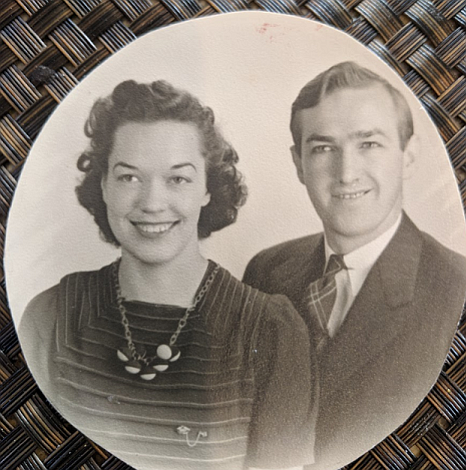 God knows why I picked up the May issue of Northwest Prime Time (NWPT) before going to visit my friend Dorothy Hoppes; He was about to perform a miracle and I was one of the participants.
I'm a member of the outreach Care Team of St. Luke's Lutheran in Bellevue; Dorothy Hoppes is one of our shut-ins. I had never before read her a story from NWPT. The story I chose – completely at random – A Lifetime of Love and Loss by Jim Nelson, featured Louise Pruitt of Lynden, who grew up in Kansas. Dorothy grew up in Kansas, I reminded myself. She'll enjoy this.
Two paragraphs in, I read "Louise Pruitt attended Fort Hays State College." Dorothy piped up, "I went to Fort Hays State College." Before the end of the article, Dorothy realized that Louise was an old friend.
That might not seem like such a big deal until you know both Dorothy and Louise are 96 years old! What are the odds that I would happen to pick up the May issue and just happen to read the exact article that would put these old jitterbugging, WWII-era friends back in touch after 77 years?
The next day, I contacted NWPT to get the information I needed to connect Dorothy and Louise. Both ladies were eager to meet in person but the 5-hour round trip from Bellevue to Lynden was not to be, even for two former jitterbuggers.
The year was 1939, the future uncertain. Dances held by the sorority both Dorothy and Louise belonged to, Sigma Alpha Iota, crowded-out the specter of war in Europe. Before long, each lady found the man of her dreams Dorothy and Frank Hoppes married on December 25, 1941 in a small Kansas chapel. Louise exchanged vows with William Varner on Valentine's Day 1942, two weeks before he suddenly shipped out and six months before he was killed in action in Sicily.
Dorothy's marriage to Frank, who would, one day, become Washington State's Commissioner of the Blind, would last nearly 62 years until his death in November 2003. They came west when Frank transferred to Boeing in 1956. He and Dorothy settled on Mercer Island. After receiving her M.Ed from Seattle University, Dorothy taught English and ESL in Mercer Island grammar schools.
Louise, not the type to let fate break her stride, resolved to transform tragedy into a noble quest. After Bill was killed, she began flight training, intent on becoming a WASP. With her pilot's license in hand, she went to apply. The Army told her, "Sorry, sister, war widows cannot be WASPs." Another blow. Enter Floyd Pruitt, who pursued Louise and eventually won her hand. They married in 1945 and also migrated west, where Floyd attended Stanford University and found a career path with Hewlett Packard.
Each had one child, a boy, Gary to Dorothy and a girl, Penny to Louise. Gary, a former 6'7" UW basketball player, died of cancer at the relatively young age of 49. Dorothy's granddaughter, Heidi Monahan of Kirkland, watches over Dorothy with assists from Dorothy's grandson, Grant Hoppes of Kent.