Age-Friendly Discussion Groups
Civic Participation: From Elections to Engagement
October 1, 2018 at 12:08 a.m.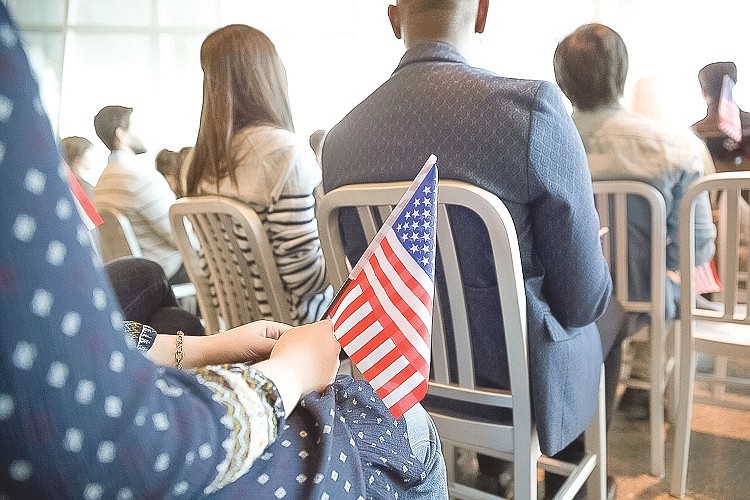 ---
...by ...by Christine Clem, AARP Washington
---
This article is brought to you by AARP Washington
The ongoing Age-Friendly Discussion Groups project brings you topics of interest to older adults. We look forward to hearing from your group.
An age-friendly community encourages older people to take an active role in the local political and civic participation process. Taking a cue from the slogan "No decision about us; without us," AARP's livable community program requires cities and counties to establish ways in which citizen advocates and people age 50 and older can participate in city government.
While older adults want to participate in civic functions, some feel there are barriers to participation. Possible solutions include reserving seats for older adults, offering transportation and improving accessibility at meetings and events – one example is providing captioning and other aids for the hearing-impaired.
Voting is one of our most obvious and essential civic duties. As a vote-by-mail state, Washington has already safeguarded the ability to cast ballots even for those with limited mobility. The future of Medicare and Social Security are high priorities during this midterm election. More than one million Washingtonians rely on Medicare for health security. Nearly 1.3 million receive Social Security in the Evergreen State to protect families against the loss of income caused by retirement, disability or death.
Keeping Medicare and Social Security strong and solvent for current and future generations is too important to be lost in the noise of campaign season. Stay informed by visiting www.aarp.org/wa or calling 206-517-9358 to learn about upcoming candidate forums, town halls and other public events.
Voting isn't the only way to be civically engaged. There are avenues closer to home that benefit from resident participation. Applying to be a community representative, attending local council and commission meetings, or programs that teach residents how to approach elected officials about important priorities are some options to become more involved in community decisions.
Dedicated residents participate on boards and commissions in communities across the northwest, including Lakewood.
"The city of Lakewood was founded by a grassroots effort of engaged citizens who wanted more control over their future," said Lakewood Mayor Don Anderson. "City leaders prioritize citizen involvement through 11 advisory boards and commissions. Volunteers who serve provide valuable insights to the City Council, allow us to meet the needs of our community and maintain an engaged citizenry."
Citizens volunteer their time to inform and guide the Lakewood City Council on a wide range of issues including the city's Landmarks and Heritage Advisory Board, which focuses on preserving Lakewood's rich history; the Community Services Advisory Board which helps ensure that state and federal funding is properly allocated to local organizations focused on meeting housing and social service needs in the community. Visit www.cityoflakewood.us/city-council/advisory-boards or call 253-589-2489 for details.
Some cities are actively empowering their community residents. The City of Tacoma has established eight Neighborhood Councils. The program creates an environment and infrastructure in which residents, property owners, businesses and employees have the opportunity to raise issues and recommend plans of action. Each council is an independent, non-profit organization that promotes citizen-based efforts for neighborhood improvement. Call 253-591-5384 to inquire about the program.
For those who are interested in more details about the local decision-making process, consider taking a leadership course for residents. These programs provide information to encourage community involvement as well as details about how city departments operate. Each spring, SeaTac and Burien collaborate to offer a free Community Police Academy for residents; the City of Bellevue also offers one. The weekly classes help community members better assist officers and increase safety in their neighborhoods. Contact SeaTac at 206-396-4127, Burien at 206-263-2573 or Bellevue at 425-452-6800 for details. Similar learning opportunities exist with city councils and fire departments. Check with your city government to learn what is available in your community.
Individuals and groups can also advocate independently for change. When Evelyn Brom wanted to build a cottage behind her Seattle home, she followed the city process and supported changes to allow building backyard units. When it came time to design and hire an architect, she ran into roadblocks. The new ordinance prohibited building on lots with a street in the front and rear of the property.
But Evelyn didn't drop the effort. Instead, she got active.
Inviting city planners to tour her property, writing councilmembers and publicly testifying at a council meeting, Brom lobbied to change the policy. In the end, the City relaxed the ordinance for her property. This language change will allow others with her property type to seek permits. Seattle posts city council and commission meetings online at www.seattle.gov/council/committees. You can also sign up for e-mail notices or call 206-684-8888 for more details.
Asked what advice she would give about interacting with local officials, "You want to be prepared. Research the topic. Read local policies. Attend meetings. Identify key contacts and local champions," Brom said. "More importantly, don't be intimated by local government. They are accessible."
The late Senator John McCain said, "Every day, people serve their neighbors and our nation in many different ways, from helping a child learn and easing the loneliness of those without a family to defending our freedom overseas. It is in this spirit of dedication to others and to our country that I believe service should be broadly and deeply encouraged."
Active and engaged citizens are our sounding boards to ensure we are making wise decisions about the future. Look for ways to get involved. Be the difference.
Discussion Questions
How have you been involved in local decision making? What was your experience like?
Of the opportunities mentioned in the article, which resonates with you the most? Why?
What are some other ways that you can participate and/or advocate for a cause that you believe in? 4. How long have you been an active voter? What does voting mean to you?
In what ways could your local government make getting involved easier and more accessible for older adults
We look forward to hearing from your group!
Grand Prize!
---
---
Winners of the Grand Prize drawing for participating in our Age-Friendly Discussion Groups project (awarded at the end of the year) will enjoy the exclusive Seattle-area premiere of Sy Rosen's short film, The Matchmaker at a place of their choosing. The film is based on one of longtime Hollywood writer Sy's Northwest Prime Time columns. Sy will be available to speak directly to your group, answer questions about the film and his humorous take on aging. Grand Prize winners and those selected from our monthly drawing will also receive a $100 gift card to Starbucks so you can splurge on coffee and treats for your next discussion group meeting. No cost to participate; limit one entry per month per group – details below.
You are invited to participate in monthly Kitchen Table Talks. On October 16 from 1-2pm, Age Friendly Seattle will host another lively monthly conversation about age-friendly communities. This discussion opportunity is open to all. You can call in from anywhere: 206-386-1200 or toll-free 1-844-386-1200 (when prompted, enter code 7487895) or visit www.tinyurl.com/KitchenTableTalkOctober (when prompted, enter code 6142451). For additional information, visit www.seattle.gov/agefriendly/events or, if you have questions about this event ahead of time, call 206-386-1521.
We want your feedback!
We encourage groups to provide input on this ongoing project:
• Snap a photo of your group and post it or any comments/questions on AARP Washington's Facebook page at www.Facebook.com/AARPWA/groups;
• email your comments/questions to editor@northwestprimetime.com;
• call Northwest Prime Time at 206-824-8600;
• mail us a note: Northwest Prime Time, PO Box 13647, Seattle WA 98198.
PRIZES!
---
---
Each group that contacts Northwest Prime Time by email, phone or U.S. mail will be entered to win a $100 gift card to Starbucks and will also automatically be entered to win the Grand Prize.
Northwest Prime Time thanks the sponsors of the Age-Friendly Discussion Groups project: AARP Washington; King County Library System; Aging and Disability Service–the Area Agency on Aging for Seattle/King County; Age Friendly Seattle
---