Village Theatre's "Matilda" Is Feel Good Storytelling At Its Best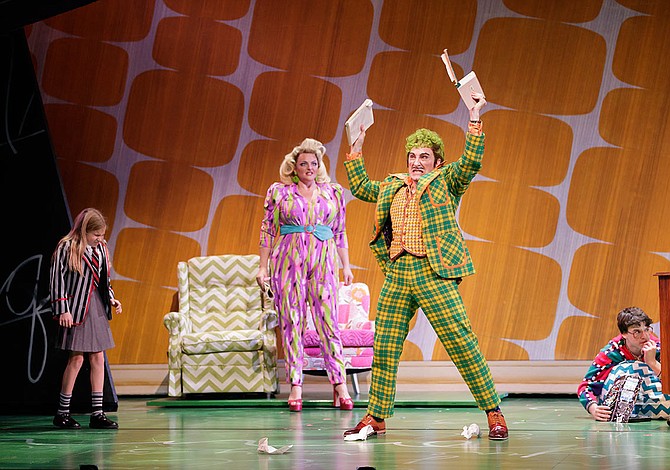 Village Theatre's latest offering Matilda has everything one could ask for in a family holiday treat. It's a delight of singing, dancing and acting that features an amazing group of children performing as if they've been on stage their whole lives. And perhaps they have.
Two young girls alternate as Matilda, and the night I saw the show Holly Reichert kept the audience involved and interested from beginning to the closing bows. The real star of the show, however, was the entire cast - especially the kids. Their nonstop energy fueled a performance that captivated the very diverse audience, especially the children in the crowd who all appeared to aspire to similar stage performance.

As with most Village Theatre productions, Matilda is visual eye candy with dynamic stagecraft and wonderful costuming. Particular well costumed was Chris Ensweiler as Matilda's father, the devious Mr. Wormwood. In his loud plaid suit with hair that Matilda quickly changes from its natural color to green, Mr. Wormwood stands out in a crowd.
And he literally does just that at the beginning of the second act, appearing in the back of the house while people are still milling around. In a brilliant moment of audience involvement, Mr. Wormwood makes his way back onstage while schmoozing with audience members before performing a comical, vaudeville-style homage to "the telly."
All in all, Matilda provides what so many families are seeking at this time of the year - a heartwarming story that is entertaining for children of all ages. It continues in Issaquah through December 30 before moving to the Everett Performing Arts Center from January 4 through February 3.
L. Steven Sieden is a writer, event producer and global futurist. His books include "Buckminster Fuller's Universe" and "A Fuller View, Buckminster Fuller's Vision of Hope and Abundance For All". He has been reviewing Seattle area theatre and live entertainment since 2012.