Age-Friendly Discussion Groups
Access to Age-Friendly Community and Health Services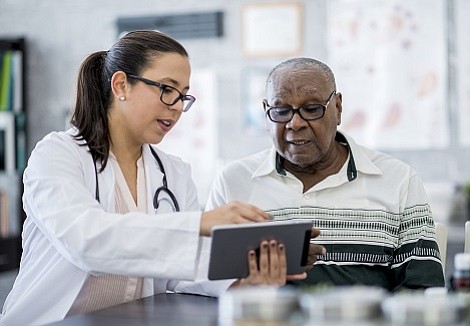 Readers: Take this article to your next doctor's appointment or Annual Wellness Visit. Ask how much geriatric training they've received. Let them know it makes a difference to you. Also, let them know they can refer patients to Community Living Connections (above) for services that complement their health care services, like meal programs, housing and transportation options, in-home care and more.
Long-term care and caregiver support
Most of us have heard of long-term care insurance, and some of us have it. Long-term care insurance typically reimburses for care provided in a nursing or assisted living facility. It's not easy to find, and it's not cheap. It's also unpredictable—will we need long-term care and, if so, for how long and what will it cost? Are we better off putting more money in savings, if we can? Read AARP's article, "5 Things You SHOULD Know About Long-Term Care Insurance" (https://bit.ly/2JuTwso), for more information.
In 2016, Washington passed the CARE Act that helps caregivers when loved ones go into the hospital and as they transition home. Hospitals are required to let patients designate a family caregiver who will be informed when the patient is to be discharged to another facility or back home and provide that caregiver with explanations and live instruction on tasks that need to be performed at home (e.g., medication management, injections, wound care, transfers). Makes sense, right? Visit https://bit.ly/2RwOFY3 to download an AARP CARE Act wallet card as a reminder.
Building awareness and promoting access
Did you know that November is National Family Caregivers Month? Most of us have been or will be a caregiver, or we'll need one. Learn more on the CaregiverAction.org website. For local caregiver support services, contact Community Living Connections (see phone numbers above).
November is also National Hospice and Palliative Care Month. If you have questions about local service providers, contact Community Living Connections.
Finally, November is National Alzheimer's Awareness Month. The Alzheimer's Association's 24/7 Helpline helps people living with Alzheimer's, family members, caregivers and health care professionals: 800-272-3900. Support groups and Alzheimer's/Memory cafes meet at many locations around the county. Check www.fulllifecare.org/alzcafes or call 206-4677033 for a location near you.
In the Northwest, we are fortunate to have a wealth of resources for older people, adults with disabilities, caregivers and professionals. The best way we can strengthen community support and health services in an age-friendly community is to get information into the hands of more people.
Discussion Questions:
Sometimes people are reluctant to contact a hotline or helpline number. Why do you think that happens? What do you think would help?

Can you describe a time when your doctor or service provider would have benefitted from better geriatric or disability training?

What steps have you taken to plan for the possibility of long-term care?

Policy and funding issues have a huge impact on older adults, individuals with disabilities, low-income families – and the community support and health care they receive. What do you think are the most effective strategies that individuals can take to ensure that policymakers consider people who are most vulnerable?

What steps can cities take to make community support and health services more age-friendly?