Age-Friendly Discussion Groups
Access to Age-Friendly Community and Health Services
November 1, 2018 at 10:33 a.m.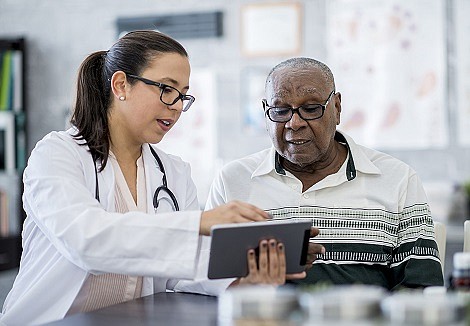 ---
...by ...by Irene Stewart, Aging and Disability Services
---
This article is brought to you by Age Friendly Seattle
All of us need access to food, shelter, clean air and water, and health services—age-appropriate screenings, immunizations, and information from caring and knowledgeable service providers. For many, the need for age-friendly community and health services increases with advancing age.


Where to turn for help When you have a question about aging, disability, caregiving or a related topic, who do you ask? Who do you contact when needs change suddenly, due to an accident or a financial or health crisis? To quote the Ghostbusters song, "who you gonna call?" A very good answer is this: Community Living Connections.
Across the nation, Area Agencies on Aging coordinate aging network services, including telephone and in-person information and referral services. Each service helps adults of all ages, abilities and income levels, their caregivers and families get the home and community supports and services they need at the right time, in the right place. Your call is answered by a professional and is confidential and free of charge.
King County offers Community Living Connections (1-844-348-5464) while Snohomish County offers Homage (1-800-422-2024) and Pierce County has an Aging & Disability Resource Center (1-800-562-0332). For other areas across Washington state, visit https://bit.ly/1Sa1ZLT.
Your local library is also stocked with books and resources to help navigate all stages of life including our later years. Check out www.kcls.org/browse/50, www.spl.org and your local library for more.
It's important to remember that help is available—at no cost to you—and sometimes even a little bit of help makes a world of difference. You don't even need to be able to define the problem— just make the call. Community Living Connections can help.
Helping primary care providers understand aging issues
Most adults visit a primary care physician at least once a year. On average, people age 65 and older see doctors 12 times per year—evidence that our relationships with physicians are important.
Nationally, there is a shortage of geriatricians—physicians who specialize in the care of older people. There are news stories each year about geriatric fellowship programs that go unfilled. One reason appears to be that geriatricians earn less than other specialists.
Other physicians need to be equipped to address the needs of older people. Unfortunately, most physicians receive little training in geriatrics. The University of Washington's Northwest Geriatrics Workforce Enhancement Center is working to change that. Two Area Agencies on Aging in Washington (King County and Southwest) provide liaisons that connect primary care physicians with community service providers who are experts on aging issues. Partnerships are growing.
Clinics and hospitals that meet ADA accessibility requirements still may not be age- or disability-friendly. Many physicians and others would benefit from disability etiquette training so that patients who are hard of hearing, have low vision and/or need a different form of communication can get the information they need. Tips include better eye contact, slower rate of speech, large print, time and patience. Training and fact sheets are available through the Northwest ADA Center (nwadacenter.org).


Readers: Take this article to your next doctor's appointment or Annual Wellness Visit. Ask how much geriatric training they've received. Let them know it makes a difference to you. Also, let them know they can refer patients to Community Living Connections (above) for services that complement their health care services, like meal programs, housing and transportation options, in-home care and more.
Long-term care and caregiver support
Most of us have heard of long-term care insurance, and some of us have it. Long-term care insurance typically reimburses for care provided in a nursing or assisted living facility. It's not easy to find, and it's not cheap. It's also unpredictable—will we need long-term care and, if so, for how long and what will it cost? Are we better off putting more money in savings, if we can? Read AARP's article, "5 Things You SHOULD Know About Long-Term Care Insurance" (https://bit.ly/2JuTwso), for more information.
In 2016, Washington passed the CARE Act that helps caregivers when loved ones go into the hospital and as they transition home. Hospitals are required to let patients designate a family caregiver who will be informed when the patient is to be discharged to another facility or back home and provide that caregiver with explanations and live instruction on tasks that need to be performed at home (e.g., medication management, injections, wound care, transfers). Makes sense, right? Visit https://bit.ly/2RwOFY3 to download an AARP CARE Act wallet card as a reminder.
Building awareness and promoting access
Did you know that November is National Family Caregivers Month? Most of us have been or will be a caregiver, or we'll need one. Learn more on the CaregiverAction.org website. For local caregiver support services, contact Community Living Connections (see phone numbers above).
November is also National Hospice and Palliative Care Month. If you have questions about local service providers, contact Community Living Connections.
Finally, November is National Alzheimer's Awareness Month. The Alzheimer's Association's 24/7 Helpline helps people living with Alzheimer's, family members, caregivers and health care professionals: 800-272-3900. Support groups and Alzheimer's/Memory cafes meet at many locations around the county. Check www.fulllifecare.org/alzcafes or call 206-4677033 for a location near you.
In the Northwest, we are fortunate to have a wealth of resources for older people, adults with disabilities, caregivers and professionals. The best way we can strengthen community support and health services in an age-friendly community is to get information into the hands of more people.
Discussion Questions:
Sometimes people are reluctant to contact a hotline or helpline number. Why do you think that happens? What do you think would help?

Can you describe a time when your doctor or service provider would have benefitted from better geriatric or disability training?

What steps have you taken to plan for the possibility of long-term care?

Policy and funding issues have a huge impact on older adults, individuals with disabilities, low-income families – and the community support and health care they receive. What do you think are the most effective strategies that individuals can take to ensure that policymakers consider people who are most vulnerable?

What steps can cities take to make community support and health services more age-friendly?
CONTACT US!
---
---
GRAND PRIZE! Winners of the Grand Prize drawing for participating in our Age-Friendly Discussion Groups project (awarded at the end of the year) will enjoy an exclusive Seattle-area premiere of Sy Rosen's short film, The Matchmaker at their discussion group's meeting place. The film is based on one of longtime Hollywood writer Sy's Northwest Prime Time columns. Sy will be available to speak directly to your group, answer questions about the film and his humorous take on aging. Grand Prize winners and those selected from our monthly drawing will also receive a $100 gift card to Starbucks, so you can splurge on coffee and treats for your next discussion group meeting. No cost to participate; limit one entry per month per group – details below.
Don't have your own group? You are invited to participate in monthly Kitchen Table Talks. On November 20 from 1–2pm, Age Friendly Seattle will host another lively monthly conversation about age-friendly communities. This discussion opportunity is open to all. You can call in from anywhere: 206-386-1200 or toll-free 1-844-386-1200 (when prompted, enter code 6962239) or visit www.tinyurl.com/KTTnovember (when prompted, enter code 6962239). For additional information, visit www.seattle.gov/agefriendly/events or, if you have questions about this event ahead of time, call 206-386-1521.
We want your feedback! We encourage groups to provide input on this ongoing project:
• Snap a photo of your group and post it or any comments/questions on AARP Washington's Facebook page at www.Facebook.com/AARPWA/groups;
• email your comments /questions to editor@northwestprimetime.com;
• call Northwest Prime Time at 206-824-8600;
• mail us a note: Northwest Prime Time, PO Box 13647, Seattle WA 98198.
---
---
PRIZES! Each group that contacts Northwest Prime Time by email, phone or U.S. mail will be entered to win a $100 gift card to Starbucks and will also automatically be entered to win the Grand Prize. We look forward to hearing from your group!
Northwest Prime Time thanks the sponsors of the Age-Friendly Discussion Groups project:
AARP Washington
King County Library System
Aging and Disability Services – Area Agency on Aging for Seattle and King County
Age Friendly Seattle
---