Age-Friendly Discussion Groups: Communication and Information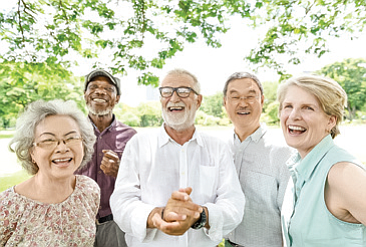 High speed internet helps keep people connected as we age, to people and the issues we care about. With the internet we can research topics of interest, work from home (telecommute), engage in social media to keep up with friends and family, purchase items for delivery, or express our opinions to our senators and representatives. At KCLS, we provide many electronic newsletters so you can be informed about when your favorite author has something new, keep up with your favorite genre and see what bestsellers are hot this week. Sign up at kcls.org/newsletters/ for KCLS newsletters; see the genres and sign up for new book alerts at kcls.org/nextreads-book-alerts/. KCLS has a Facebook page (www.facebook.com/kingcountylibrarysystem). Some individual libraries have their own page.
AARP also has wonderful newsletters, resources and events targeting issues of interest to older adults. For example, this month there is a legislative initiative on Medicaid-funded hearing aids that will affect many people. AARP's timely news keeps constituents posted on issues and what actions to take to promote legislation supporting adults as they age. AARP even hosts a free "tele-town hall" each month so you can listen in to experts on various legislative issues and ask questions. It's a great way to stay informed!
As we've seen, there are numerous ways to interact and find the information you need. Call, text, email, letters, newsletters, books, magazines, movies…the choices are endless, but needn't overwhelm. There's help! Turn to us, the choices will surprise you!
Here are some questions to prompt your discussion on this aspect of Age-Friendly cities:
How has communication changed over your lifetime? How do you feel about those changes?
What does "keeping up" mean to you? How do you choose to use (or not use) technology? What are the impacts of your decisions?
What type of communication do you prefer? Do you long for?
What types of information do you usually look for and where do you look? Are there other ways you might find it? What types of information might you help others discover?
What's your preferred discovery method when investigating a new topic? Do you use more than one? Why do you prefer your favorite?
What are your favorite ways to discover something new? What about a way to share a favorite memory or story?
What else would you like to tell the group about communication and information? How could the group support this aspect of livability?
Age-Friendly Discussion Groups
Would you like to gather with others to discuss topics of interest to the 50+ crowd? Look for this feature in every issue of Northwest Prime Time, brought to you by AARP Washington, King County Library System, and Aging and Disability Services–the Area Agency on Aging for Seattle/King County.
Each month we will examine a "hot topic" of interest to older adults, along with suggested discussion points and resources. Perhaps you're already part of a group that will add this to their monthly activities, or maybe you'd like to form a new group. Meetings can take place anywhere people may want to congregate on a regular basis.