Age-Friendly Discussion Groups: Communication and Information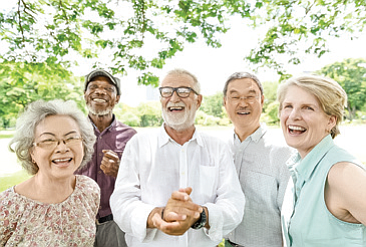 This is the second month of our exploration of the Age-Friendly Communities movement. This month's topic for discussion is "communication and information."
As this aspect of Age-Friendly Communities recognizes, "Not everyone has a smartphone or internet access and information needs to be disseminated through a variety of means." That includes print, in person, computers, social media, video, flyers, newspapers, billboards, bookmarks, calendars…you get the drift. There are many ways to communicate and to find information!
Access to information is always provided FREE at your community library. Turn to us when you are seeking answers beyond Google, or your printer has died, or you are visiting another town or you need help digging into the world of the internet. When rating places to live, libraries are always listed among the most desirable community assets. Here in the Puget Sound, we have libraries in just about every community and neighborhood. There are 48 libraries in the King County Library System, 27 in Seattle, 22 in the Sno-Isle System and 20 in Pierce County. We've got you covered!
Of course, there's the postal service, telephones and good old-fashioned face-to-face interaction, but increasingly communication is done via keyboard, text and touch screens. Technology certainly has its plusses and minuses, but how does one "keep up" with it all?
Keeping up means different things to different people. Some people want to read everything on a new topic and own the latest and greatest device. Others eschew new or fancy in favor of tried and true. There's no one way that works for everyone, and these days many people feel they are drowning in information. With 24/7 access to virtually anything in the world, it can be difficult to distinguish what's important. On the other hand, technology makes so many tasks easier – sending messages in the blink of an eye, reformatting a newsletter (remember cutting and pasting when it was actually done with scissors and tape?), sharing pictures, making your pictures better (eliminating "red-eye" and even wrinkles). It can be miraculous!
One of the best things about libraries is human interaction. You can curl up in a corner with a book or your smartphone, but you can also connect with a library staff member and receive one-on-one attention and help. On anything. In person, by phone or email – chat with Ask KCLS (1-800-462-9600 and kcls.org/using-the-library/chat/). We don't care who you are or what you look like – all are welcome. Our doors are open most evenings and weekends, with free and open access to not only books, magazines and online research databases like Consumer Reports and ancestry.com, but also to computers and classes of all sorts.
Libraries also have book groups of all kinds, meeting rooms where you can start your own discussion group or even your next big idea! Speaking of big ideas, the Bellevue Library has been remodeled to feature KCLS' first "ideaX Makerspace" where you can work with others to create all kinds of projects from sewing to 3D printing and more!