Say cheese: Indian recipe provides a low-sodium alternative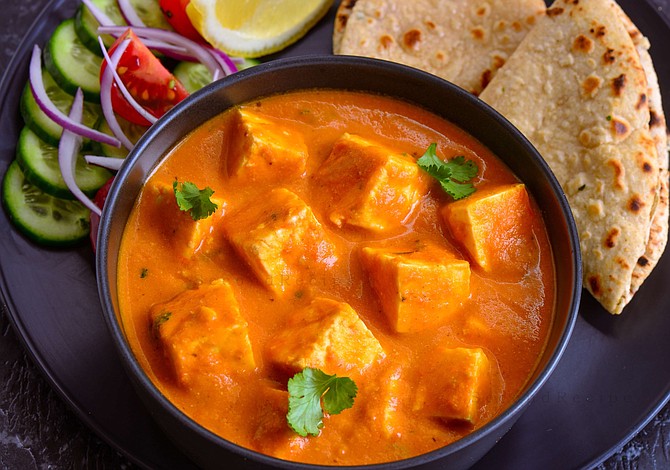 4 teaspoons olive oil
1 tablespoon ground cumin
1 tablespoon red chili powder
1 tablespoon garam masala
2 teaspoons turmeric powder
1 teaspoon black pepper
2 cups paneer cheese (or extra firm tofu)
Warm 2 teaspoons olive oil in a skillet over medium heat. Add onions, ginger and garlic and cook until soft, about 5 minutes. Wash spinach leaves thoroughly, but don't dry them; the water will help them cook down. Add the spinach, tomatoes, peppers and spices. If the spinach will not all fit, add it in batches or warm half in a separate pot until it is wilted, then combine. Reduce heat to medium-low and let simmer until the vegetables can be mashed to a soft pulp, about 25 to 30 minutes.
Remove skillet from heat and blend contents in a food processor or blender until mostly smooth. Return to skillet and continue to simmer another 20 minutes to allow spices to penetrate the dish.
While the spinach is simmering, heat 2 teaspoons olive oil in a separate skillet over medium heat. Cut the paneer (or tofu) into small cubes and pan-fry until golden brown. Serve sauce hot over paneer cubes with roti, naan, pita or other flatbread.
Nutrition Information:
Calories: 183
Carbohydrates: 14 g
Protein: 10 g
Sodium: 49 mg
The information in this column is meant for people who want to keep their kidneys healthy and blood pressure down by following a low-sodium diet. In most cases, except for dialysis patients, a diet high in potassium is thought to help lower high blood pressure. These recipes are not intended for people on dialysis without the supervision of a registered dietitian.
[Katy G. Wilkens is a registered dietitian and department head at Northwest Kidney Centers. A recipient of the Susan Knapp Excellence in Education Award from the National Kidney Foundation Council on Renal Nutrition, she has a Master of Science degree in nutritional sciences from the University of Washington. See more of her recipes at www.nwkidney.org.]