Bring back the flavor with fresh herbs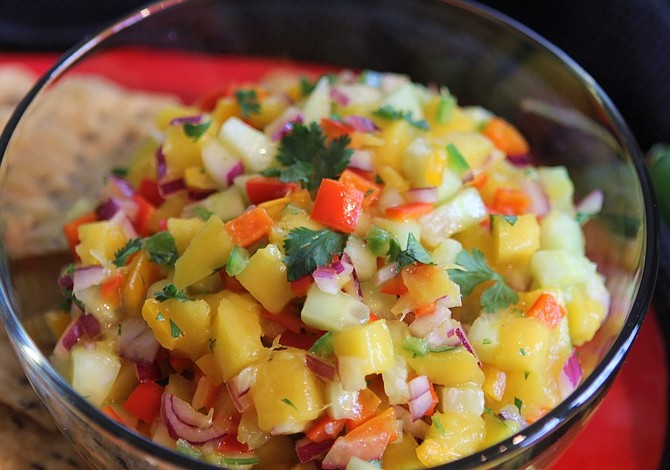 Every where you go, you hear "don't eat fat, don't eat sugar, don't eat salt!" But the problem is, sugar, fat and salt add flavor to foods. If you give up these three flavoring agents, does that mean a lifetime of meals that are flavorless and bland? No, it doesn't, and the answer lies in a secret ingredient many of us have forgotten about: fresh herbs.
Buy them fresh, keep them fresh
Buying fresh herbs at the grocery store is easy. The trouble comes in keeping them fresh. Once you get your herbs home, cut half an inch off the bottom stems and place them in a jar of fresh water. Make a tent with a plastic bag and place it over the top of the herbs. Store them in your refrigerator for as long as two weeks. (Basil should be prepared in this same way but stored on your counter, not in the refrigerator.) Change the water every few days and occasionally cut the stems again.
Use more fresh herbs and dry leftover herbs
Fresh herbs are less potent than dried herbs, so you need to use more of them when cooking. Use about twice the amount of fresh herbs in recipes that call for dried herbs. If you really like the flavor, be bold and triple the amount.
If you have extra fresh herbs, rinse them and lay them on paper towels or use a salad spinner to dry. Tie in a bunch and staple in a brown paper bag. Put them in the refrigerator, not the freezer.
Mango Salsa
2 ripe mangos



2 red peppers
1 cucumber



1/4 teaspoon chili powder

2 tablespoons lime juice
2 tablespoons fresh basil

2 tablespoons honey
1 bunch fresh cilantro, stems removed and chopped.
Dice mangoes, peppers and cucumber and place in bowl. Add the rest of the ingredients and mix. Chill and serve with chicken, fish or as a salad. This will last several days.
Nutritional Information
Calories: 84
Carbohydrates: 21g
Protein: 1g
Fat: 0g
Sodium: 4mg
Honey Thyme Summer Salad
5-6 nectarines



3 tablespoons honey
2 sprigs thyme



2 tablespoons thyme leaves
3 tablespoons lemon juice

1 tablespoon Dijon mustard

1/3 cup olive oil



1 bunch mixed lettuce
2 tablespoons chives




1/2 cup almonds
2 cooked chicken breasts, chilled and sliced
Pit nectarines. Chop one nectarine and place in saucepan, along with all nectarine pits. Add honey, thyme springs and 2 cups of water to saucepan. Boil, stirring occasionally, until mixture is reduced to about 1/3 cup. This should take about 20 minutes. Pour through a strainer and cool for 10 minutes.
Whisk lemon juice and mustard into dressing. Add pepper to taste. Slice remaining nectarines and combine in large bowl with lettuce and sliced chicken. Divide onto four plates, sprinkle with thyme leaves and almonds. Serve with dressing.
Nutritional Information
Calories: 440
Carbohydrates: 21g
Protein: 1g
Fat: 26g
Sodium: 107mg
The information in this column is meant for people who want to keep their kidneys healthy and blood pressure down by following a low-sodium diet. In most cases, except for dialysis patients, a diet high in potassium is thought to help lower high blood pressure. These recipes are not intended for people on dialysis without the supervision of a registered dietitian.
[Katy G. Wilkens is a registered dietitian and department head at Northwest Kidney Centers. A recipient of the Susan Knapp Excellence in Education Award from the National Kidney Foundation Council on Renal Nutrition, she has a Master of Science degree in nutritional sciences from the University of Washington. See more recipes at www.nwkidney.org.]