Planning For Your Pet's Future
Volunteers at Seattle Humane enroll in the organization's Pet Guardian Program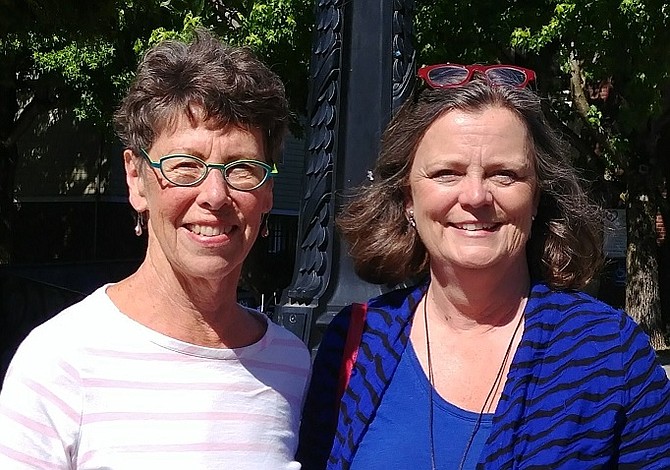 This article is sponsored by Seattle Humane
Gal pals and former next-door neighbors, Janette Adamucci and Victoria Mabus, enjoy the many hours they spend volunteering at Seattle Humane's new adoption center (the shelter and veterinary teaching hospital are located in the Factoria neighborhood of Bellevue).
Janette volunteers as a Seattle Humane board member and in its Pet Food Bank for low-income senior pet owners in need. Victoria regularly works with pooches at the shelter needing extra behavior training before they're ready for adoption.
While volunteering at Seattle Humane, both women learned about the Pet Guardian Program, which offers a way to ensure their pets will be cared for when they pass or become permanently disabled. By enrolling in the program and listing it in your will or estate plans, Seattle Humane becomes the legal owner of your pet when you die, and then provides immediate care and adoption services.

For Janette, knowing that her beloved kitty, Francie, a Seattle Humane alum, would be well cared for if she died was very important. "It really gives me peace of mind knowing that our kitty will be placed in a loving home if we're not around anymore," Janette says. "I know that Seattle Humane would match Francie with someone who would love her like we do."
Victoria also decided to include the Pet Guardian Program in her will as a backup should her family not be able to care for her pampered fidos, Sage and Ivy, both of whom were adopted from Seattle Humane. Knowing first-hand how well the animals are cared for at the shelter, and the tremendous efforts the staff and volunteers take to make the best match of pets and families, enrolling in the program was a no-brainer for her. "I particularly like that enrolling in the Pet Guardian Program allows me to designate how my dogs will be re-homed by going directly into foster care, staying temporarily at the shelter or even being adopted together."
Enrollment in the Pet Guardian program requires a one-time tax-deductible fee of $1,000 and covers up to five dogs and cats. When the time comes, Seattle Humane will pick up your animals within 100 miles of the shelter, bring them to their temporary home and follow the wishes for their placement as described in the enrollment form.
To learn more about Seattle Humane's Pet Guardian Program, contact Scott Fraser, Esq., Seattle Humane's Major and Planned Giving Director, at scott@seattlehumane.org, 425-373-5387, or visit http://seattlehumane.planmylegacy.org. Keep up-to-date about future events and presentations at Seattle Humane by visiting Northwest Prime Time's calendar of events on page 20.