A Northwest Icon
George Washington of Centralia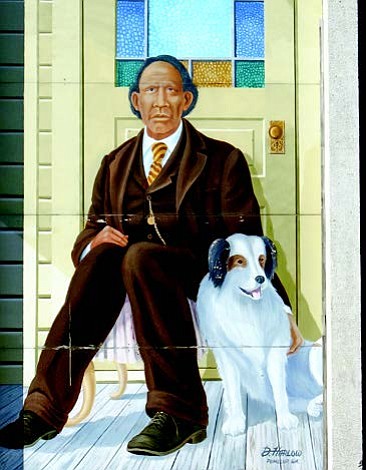 "If there's a decent place in this world, I'm going to find it," he told his foster family, and when they asked to come with him, they all vowed to stay together until the end.
After adventures and life-threatening illness, George came to the Oregon Territory — but the area's racist laws banned him and all blacks from this frontier country. To avoid the heavy hand of these racial exclusion laws, he came north to this area far from the seat of territorial control (another black pioneer with a presidential name, George Bush, settled in the Tumwater area for the same reason).
After nearly losing his homestead to claim-jumpers who aimed to take advantage of the laws against blacks owning land, George worked with his white foster parents, the Cochrans, to homestead the land where he later founded Centralia.
George's new neighbors sent a petition to the Oregon Territorial Legislature, calling for "a special act in his favor" to exclude him from these racist laws. "Since he has been residing among us his conduct has been that of an Honorable, Industrious, Law-abiding man," the petition, signed by 112 white pioneers, declares. The territorial Legislature voted in favor of the petition, and finally Washington had that "decent place" of his dreams.
Bicentennial Observance Celebrates Washington's Legacy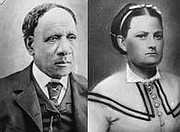 Centralia-area residents began meeting in January of 2017 to plan a big 200th birthday bash for George Washington. It quickly became clear that the ideas they had were much bigger than one day, and a yearlong observance was organized, culminating in a grand finale celebration and dedication of a George and Mary Jane Washington statue on August 11, 2018.
The city of Centralia's annual Fourth of July Summerfest parade in 2017 was dedicated to George Washington's bicentennial, and other events have been held throughout the year. Hundreds of people attended the 200th birthday party on Aug. 12, 2017, with kids' games, free hot dogs and shaved ice, music from the Two Town Tuners barbershop chorus, a 5K run around the borders of George's original 640-acre homestead, and much more. The next day, a pioneer-style church service in George Washington Park honored the couple's deep, life-changing faith.
On Aug. 15, 2017, the precise day of George's 200th birthday, Centralia College held a ceremony officially rededicating Washington Hall to George's memory.
Local business owner, Todd Watson, restored the colorful George Washington mural downtown as a way of showing his respect for the founder and his ideals. Events have continued throughout the bicentennial year.
George and Mary Jane Washington Statue Dedication
The people of Centralia and beyond have pulled together to create a bronze statue of George and Mary Jane Washington to honor the founders on the 200th anniversary of George's 1817 birth in Virginia. And a scholarship fund will be given to Centralia College's students showing George and Mary Jane Washington's spirit of overcoming obstacles with a community-minded spirit.
Join the people of Centralia at the statue dedication from 10am to 2pm this August 11, 2018 at George Washington Park in downtown Centralia. For more information, visit www. OurGeorgeWashington.com.
Brian Mittge is chair of the all-volunteer George Washington Bicentennial Committee and is co-authoring the first definitive biography about him. Mittge is a fourth-generation Lewis County resident and is the former editor-in-chief of The (Centralia) Chronicle. He lives with his wife and their three children in rural Lewis County. He can be reached at, brianmittge@hotmail.com.