Age-Friendly Discussion Groups: Social Participation
Staying Engaged at Any Age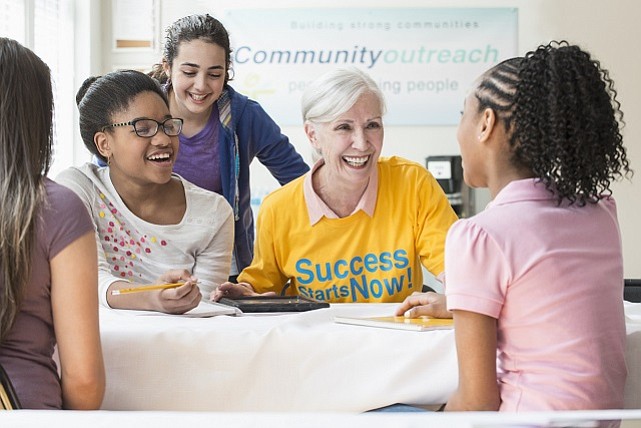 This article is brought to you by AARP Washington
There's a difference between being lonely and being alone. Some of us thrive on quiet, solitary reflection but, as social animals, our brains are hardwired for social interaction. So, what happens when our ability to stay engaged and active in social life becomes more complicated? Too long in this scenario and we begin to feel cut off from our community.
To the World Health Organization, social participation is one feature that cities, counties and states should focus on to foster livable communities for all ages. They believe "participating in social activities in the community allows older people to continue to exercise their competence and maintain or establish supportive and caring relationships."
"Being connected to others socially is widely considered a fundamental human need – crucial to both well-being and survival," reported Julianne Holt-Lunstad, professor of psychology at Brigham Young. "Yet an increasing portion of the U.S. population now experiences isolation regularly."
How can we tell if a friend or family member is affected by isolation and loneliness? Connect2Affect.org, in collaboration with the AARP Foundation, is a web-based resource with tools to help people evaluate their risk for isolation, reach out to others who may be feeling lonely and disconnected, and find practical ways to reconnect with the community.
FriendtoFriendAmerica.org (206-870-4266) is dedicated to ending loneliness in the lives of seniors. The Washington Warm Line (1-877- 500-9276) is a peer support help line for people experiencing loneliness, depression and other life difficulties.
No one wants to become irrelevant. We want to feel welcome at our community events. How can we improve these gatherings to make them available to a wider audience? While limited mobility, hearing loss or cognitive decline may make it a little more challenging to keep up socially, steps can be taken to ensure older adults have options to interact and thrive no matter their age.
During the planning phase, event organizers can make a few changes to ensure events are inclusive to all ages and abilities. Age Friendly Seattle produced a guide called Meeting the Needs of People with disAbilities, which cites four basic accessibility considerations to help make an event easier to attend. They include adequate and accessible public transportation stops nearby, accessible parking spots, a clearly identified area to drop off and pick up attendees, and ADA compliant restrooms.
People with hearing loss can learn of resources through the Hearing Loss Association of America (www.hearingloss.org), including chapter and support meetings that are open to visitors in Renton (253- 631-2345) and Tacoma (360- 871-0997).
While an Alzheimer's diagnosis can make outings more challenging, local groups are taking steps to ensure that people with memory loss can get out and participate. Momentia is a grassroots movement empowering people with memory loss and their loved ones to remain connected and active in their community. Momentia promotes programs, social activities and events throughout the Puget Sound region that occur in safe, supportive community venues like libraries, theaters, museums and cafes. Designed to provide opportunities to leave the dementia diagnosis at home for a while, activities like art, walking programs and drumming circles encourage people to come together for support and friendship outside of a medical setting.