Fall under the spell of the nation's oldest city
Travels with Deb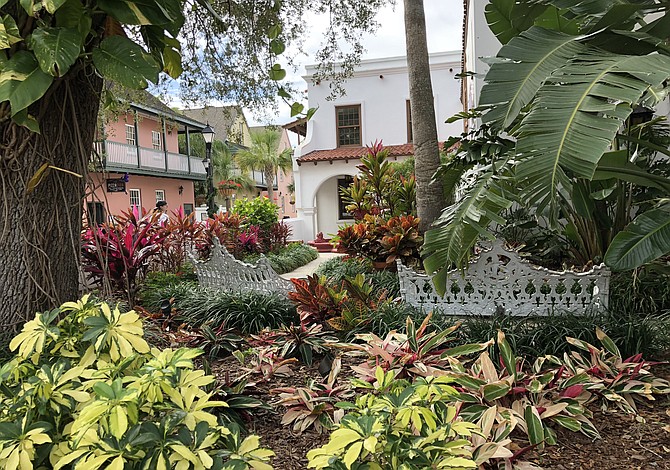 History buffs will also enjoy a guided tour of historic Flagler College. Built in 1888 by railroad magnate and Standard Oil co-founder Henry Flagler, the place began as St. Augustine's Hotel Ponce de Leon. It was an exclusive resort property like none other and an architectural wonder where presidents stayed and the wealthy played. The entire structure was completed in only eighteen months at a cost of $2.5 million, and was wired for electricity by Edison himself. Designed in the Spanish Renaissance style by a prominent New York architectural firm, it features four different themes: nautical, Spanish, religion and the lion. You will notice representations of frogs, turtles, Spanish flags and coats of arms, angels and cherubs, ships and dates of explorations, lions and other symbols scattered throughout the property. The main lobby boasts carved oak pillars and a domed ceiling painted in twenty-four carat gold leaf. The floors are made of hand laid African mosaic title. If you look closely, you'll see that there are a few imperfections in the tile. These flaws were purposefully created because according to Flagler, "only God is perfect."
The ballroom, now the college's dining hall, has the largest collection of Tiffany windows in the world. And the Flagler Room, the piece de resistance, is decked out in Tiffany chandeliers and coated in Tiffany paint. This room was once the Ladies Parlor, where women would come for tea upon arrival, while their husbands dealt with payment in another area. The doors were purposefully thick to shield the women from hearing any conversations about money. The belief of the day was that womenfolk had weak constitutions and would faint if they were privy to such matters. Take a moment to look at the portraits of Henry and his wife Mary. Because she was so much younger than him, Henry insisted that her portrait reflect his wrinkles!
The hotel closed in 1967 due to a decline in profitability. A year later, Flagler College was established, first as an all-women's institution; later, it became coed. Today, there are 2,600 students attending the four-year private liberal arts school. It offers thirty-three majors and is especially known for the strength of its education and business administration fields of study.
Across the street is the Lightner Museum, once the grand Alcazar Hotel of the Gilded Age, another of Flagler's projects. This property featured the largest indoor swimming pool at the time, a grand ballroom, sulfur baths, a steam room, massage parlor, tennis courts, bowling alley and gymnasium. The hotel became a museum in 1948 when Otto Lightner purchased it. Lightner was a collector, who believed "everyone should have a hobby" and "everyone should collect something." When Chicago mansions were put up for sale during the 1930s, he had the opportunity to buy treasures for low prices. Soon his possessions outgrew his Chicago museum-home. While in Florida for health reasons, Lightner noticed the vacant Alcazar Hotel and decided to buy it as a showcase for his collections.
The museum consists of several galleries on four floors, with displays of artwork, antiques and curios from the 19th century. Lightner's collection is impressive and extensive. It includes such eclectic pieces as a mummy, shrunken heads, human hair art, cigar labels, salt and pepper shakers, Tiffany glass, porcelain, fine art paintings, furniture and sculpture.