Tasty bites for the holidays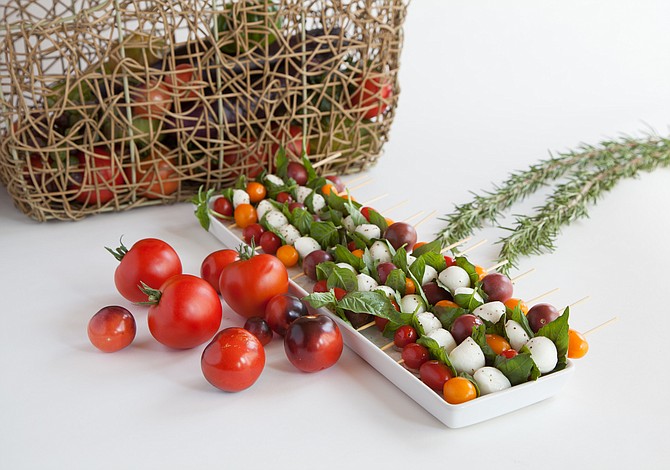 Appetizers, hors d'oeuvres, tapas, mezze – whatever you call them, tasty bites are great holiday dishes for entertaining without preparing an elaborate meal. Typical small bites are often full of sodium that will strain your heart and kidneys, but there are lots of great low-sodium options that are easy, tasty and healthy.
As you plan your menu, choose appetizers with a variety of flavors like sour, sweet, bitter and umami, so you don't miss the salt. Mushrooms and parmesan cheese are chock-full of umami, the rich, deep flavor that make the fennel-stuffed mushrooms below a crowd pleaser.
How about a caprese salad that's easy to eat? String little balls of fresh mozzarella, cherry tomatoes and fresh basil on skewers, sprinkle with balsamic vinegar and oil and you'll have a festive offering that is so easy to make, kids can help. Another easy, no-cook appetizer for kids to help with is stuffed dates.
Chips and dips are usual party fare, but both are usually high in salt. Try our favorite and super easy Joyce's quick dip, seasoned with low-sodium Mrs. Dash and served with fresh pita chips you make yourself.
Prepare the healthy bites below and you are ready for any party. Most of these also travel well.
Fennel-stuffed mushrooms
1 pound small cremini mushrooms, stems removed and retained
2 tablespoons butter
½ cup chopped onion
½ cup chopped fennel root
1 clove garlic, minced
1 teaspoon fresh tarragon
1 cup grated parmesan cheese
Heat oven to 400 degrees. Finely chop mushroom stems. Melt butter in frying pan, add chopped stems, onion and fennel. Add garlic when onion is translucent, then add tarragon and cook 2 more minutes. Remove from heat, stir in cheese.
Fill mushroom caps with filling, place on baking sheet lined with parchment paper. Bake about 7-10 minutes till warm, serve immediately. Or make ahead and leave them in the fridge. Just pop them in the oven when your guests arrive.
Nutritional information (per 2 mushrooms):
Calories: 112, Carbohydrates: 8 grams, Protein: 6 grams, Sodium: 214 milligrams
Caprese salad on a stick
1 pint assorted heirloom cherry tomatoes, cut in half
1 cup fresh basil
1 carton fresh mozzarella balls (small size)
3 tablespoons olive oil
Balsamic vinegar (white, if you can find it)
Toothpicks or bamboo skewers
Pepper (optional)
Thread tomato half, small basil leaf and mozzarella ball onto each stick until all ingredients are used. Drizzle the olive oil and vinegar over the skewers, leaving the end of the toothpick clean. Sprinkle with pepper if desired. Serve immediately.
Nutritional information (per 2 skewers):
Calories: 220, Carbohydrates: 4 grams, Protein: 8 grams, Sodium: 32 milligrams
Stuffed dates
2 cups Medjool dates
8 ounces Neufchâtel cheese or cream cheese, at room temperature
16 walnut or pecan halves
Sugar
Slice dates, remove pits. Fill with Neufchâtel cheese or cream cheese. Insert walnut or pecan half into cream cheese. Roll in sugar. Store at room temperature. Serve within a day or two.
Nutritional information (per serving, 2 dates):
Calories: 292, Carbohydrates: 53, Protein: 5 grams, Sodium: 136 milligrams
Joyce's quick dip
8 ounces nonfat yogurt

1 tablespoon Mrs. Dash Seasoning
Mix nonfat yogurt and Mrs. Dash seasoning with a fork until well blended. Let sit overnight in refrigerator.
Nutritional information:
Calories: 16, Carbohydrates: 2 grams, Protein: 1 grams, Sodium: 17 milligrams
Fresh pita chips
4 rounds pita bread
Butter, margarine, mayonnaise or oil
8 tablespoons parmesan cheese, fresh grated
Using a pastry brush or paper towel, spread pita bread with small amount of margarine, butter, or mayonnaise; or spray with a light coat of cooking oil. Sprinkle about 2 tablespoons parmesan cheese on each round. Cut pita bread rounds into 8 sections.
Toast in a 450-degree oven for about 3-5 minutes, until cheese melts and chips toast. Serve with Joyce's quick dip.
Nutritional information (per serving):
Calories: 104, Carbohydrates: 11 grams, Protein: 3 grams, Sodium: 161 milligrams
[Katy G. Wilkens is a registered dietitian and department head at Northwest Kidney Centers. The National Kidney Foundation Council on Renal Nutrition has honored her with its highest awards: the Susan Knapp Excellence in Education Award and the Joel D. Kopple Award for significant contributions in renal nutrition. See more recipes at www.nwkidney.org.]