Age-Friendly Discussion Groups
Transportation: Building Lifelong Transportation Options
If you're over 65 or have a disability, you might qualify for a Regional Reduced Fair Permit (RRFP). The RRFP gives users access to discount fares on 15 transportation systems throughout Puget Sound, including Washington and King County ferries, South Transit, King County Metro, Pierce Transit and Community Transit. Eligible riders for permanent permits include adults over 65 and persons with disabilities. The ID card costs $3. With an RRFP, rides on Metro buses are only $1 and a monthly reduced fair pass costs $36. Fares for other transit rides may vary. To see if you are eligible or for more information, call King County Metro at 206-553-3000.
If you are looking for other travel options in your area like rides to medical appointments or paratransit, call 2-1-1 to reach the Washington Information Network or visit them online at https://win211.org/. In Snohomish and King County, Hopelink.org is a great resource for special needs transportation. For general questions about HopeLink call their administrative office at 425-869-6000. Help is also available at www.washingtoncommunitylivingconnections.org or call 855-587-0252.
Being able to move about your community determines social and civic participation; increases access to community and health services; decreases isolation; and improves overall health outcomes. The challenges are clear when it comes to creating lifelong transportation opportunities. To be truly age-friendly, city planners need to prioritize communities over commuters. Affordable, reliable public transit is vital, as are safe sidewalks and street crossings. Simply put, members of the community must have choices that go beyond car keys.
Discussion Questions
What features of public transit do you currently enjoy? What features would encourage you to use public transit more often (e.g. frequent buses, safety features)?
What areas would you visit if you didn't have to drive to the destination?
How have transportation options improved in your community? How have they worsened?
How have you changed the way you drive with age?
We Want to Hear from You! Participants in the Age-Friendly discussion talks who contact Northwest Prime Time are eligible for prize drawings.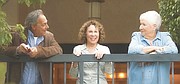 GRAND PRIZE! The Grand Prize (awarded at the end of the year) will enjoy an exclusive Seattle-area premiere of Sy Rosen's short film, The Matchmaker at their discussion group's meeting place. The film is based on one of longtime Hollywood writer Sy's Northwest Prime Time columns. Sy will be available to speak directly to your group, answer questions about the film and his humorous take on aging. Grand Prize winners and those selected from our monthly drawing will also receive a $100 gift card to Starbucks. No cost to participate; limit one entry per month per group – details below.
Don't have your own group? You are invited to participate in Age Friendly Seattle's Kitchen Table Talk on Tuesday, December 18, from 1–2pm. At event time, call 206-386-1200 (tollfree 1-844-386-1200). Or visit www.tinyurl.com/KTTdecember. Either way, when prompted, enter code 783649. For more information, visit www.seattle.gov/agefriendly/events. For questions at other times, call 206-386-1521.
We want your feedback! We encourage groups to provide input on this project:
• Snap a photo of your group and post it or any comments/questions on AARP Washington's Facebook page at www.Facebook.com/AARPWA/groups;
• email your comments /questions to editor@northwestprimetime.com;
• call Northwest Prime Time at 206-824-8600;
• mail us a note: Northwest Prime Time, PO Box 13647, Seattle WA 98198.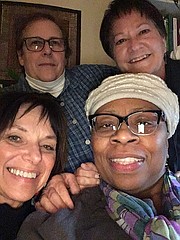 PRIZES! Each group that contacts Northwest Prime Time by email, phone or U.S. mail will be entered to win a $100 gift card to Starbucks and will also automatically be entered to win the Grand Prize. We look forward to hearing from your group!
Northwest Prime Time thanks the sponsors of the Age-Friendly Discussion Groups project: AARP Washington, King County Library System, Aging and Disability Services-Area Agency for Seattle and King County, Age Friendly Seattle