Bilateral Simultaneous Knee Replacement Has Advantages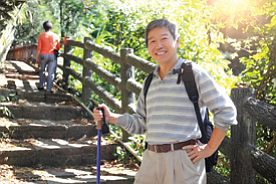 This article is sponsored by Virginia Mason

If someone you know has severe arthritis in both knees, they may be a candidate for bilateral simultaneous knee replacement, where both joints are operated on in one procedure. Although not for everyone, this approach often interests people who dread the idea of recovering from two surgeries, which delays recovery and normal function for months, if not years.
Bilateral staged knee replacement – one knee surgery followed later by another – is common. However, bilateral simultaneous knee replacement is more advanced and uncommon due to the expertise and team coordination required. It benefits people who have limited time off from work for rehabilitation and need to quickly return to a normal lifestyle.
Candidates are reasonably fit, in good health, have chronic conditions controlled and are younger than 80 years old. They also need to be motivated to endure aggressive physical therapy and rehab.
Our goal at Virginia Mason is to get patients moving as soon as possible after surgery. We aggressively control pain with nerve blocks, injections around the new knees and oral pain medication. Newer techniques allow placement of a temporary, indwelling catheter, which continuously blocks pain up to three days after surgery without significant compromise of strength.
Rehab is more challenging in the initial few days since patients must recover strength and range of motion on both sides to support their gait. But compared to a knee that is already compromised by arthritis – as in a single knee arthroplasty – each new knee typically responds properly and improves with time, as opposed to gradual worsening in an arthritic knee while the new knee recovers. In fact, residual arthritis in the opposite knee can permanently hamper recovery due to pain, swelling and dysfunction, which makes walking more challenging.
Typically, after a week or two, bilateral simultaneous knee patients outpace staged knee replacement patients as rehab progresses.
Since my partner and I perform more bilateral simultaneous knee replacement surgeries than any other group in the Northwest, we've learned important lessons.
One is that we want to get people home as soon as possible. We encourage patients to establish a support system in advance to help with daily living. Recovery from bilateral simultaneous knee replacement takes a team. So, we help patients identify a care partner, usually a relative, to speed recovery.
The main advantages of a simultaneous procedure are a lower overall infection rate due to efficient surgery involving one episode of anesthesia and much more rapid overall recovery. Surgery typically takes about 80 minutes, which is important since longer anesthesia times are associated with greater risk for infection and blood clots. Also, patients only experience one recovery and rehab period.
It may also result in cost savings, since patients only have one hospitalization and rehab. Medicare and most private insurers cover this surgical approach.
Another advantage, specifically at Virginia Mason, is a one-stop model, where care is provided by seasoned orthopedic specialists in the community close to where people live.
It is important to recognize that bilateral simultaneous knee replacement creates additional stress on the body. Your medical condition preoperatively is essential in determining the appropriateness of this approach. A pre-surgery assessment by the surgical team, and any necessary medical specialists, helps patients decide.
Despite the risks and challenges inherent in surgery, bilateral knee replacement offers excellent success at 95 to 98 percent over 15 years.
For more information, visit VirginiaMason.org/Orthopedics or call 206-341-3000.
David Kieras, MD, FAAOS, is an orthopedic surgeon who practices at Virginia Mason Federal Way Medical Center, www.virginiamason.org/federal-way