Age-Friendly Housing: How is Your Relationship With Your Home?
Age-Friendly Discussion Groups
April 29, 2018 at 11:07 a.m.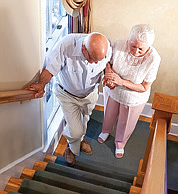 ---
...by …by Christina Clem, AARP Washington
---
This article is brought to you by AARP Washington
The ongoing Age-Friendly Discussion Groups project brings you topics of interest to older adults. This month's theme of "home" applies to homeowners, renters and residents of senior housing communities. We look forward to hearing from your group!
Home is where the heart is. It is more than a structure built of wood or brick or steel. It is where we surround ourselves with belongings that give us comfort and inspiration. It is where we make memories with family and friends. For those fortunate enough, a residence can adapt through different life stages to be the home that we need at any given time.
But our lives aren't as static or predictable as they once were. For starters, we are living much longer than previous generations, which means our homes can become a safety hazard as we age. In addition, our idea of family has expanded. Married children are moving back home with parents. Parents are moving in with children. Three, even four generations living under one roof is not as uncommon as it once was. In addition to these societal changes, economic pressures play a significant role in our housing futures. For instance, property taxes have increased exponentially which has left many older residents wondering if they can afford to stay in their communities.
On the government front, elected officials recognize older homeowners are struggling. This spurred several bills during the last legislative session aimed at easing the cost burden for distressed homeowners. One bill gives local jurisdictions the ability to exempt older adults and disabled persons from property tax levies if tax exemption language is included in the ballot measure. This measure will apply to King County's Veterans, Seniors, and Human Services levy, which adds 10 cents per $1,000 of assessed home value to property taxes.
Property tax exemptions and tax deferrals are available to low-income seniors, retired disabled citizens and veterans in Washington State. According to the King County Assessor's Office, thousands of qualified seniors and disabled persons haven't registered for the exemption. Only 1 in 100 has taken advantage of deferrals. Find out more through your local assessor. Lists of offices are available from the Washington Department of Revenue at www.dor.wa.gov/find-taxes-rates/property-tax.
Another big concern as communities work to create a more age-friendly environment is the safety of older adults. According to the National Floor Safety Institute, every year in the U.S. one of every three persons over the age of 65 will experience a fall. Most homes that we live in today are not equipped to handle the needs of an aging population. However, most people don't discuss or think about the age- appropriateness of their home until a crisis occurs.
Rebuilding Together (RT) is one local resource committed to helping low-income older adults, veterans and people with disabilities age in their own homes. Interested parties submit an application for repairs, which are reviewed during a site visit along with an additional checklist of 25 repair priorities for safety. Depending on needed repairs, RT will either connect the homeowner with their Safe at Home volunteers or schedule a large Team Build or Spring Rebuilding event for more complicated modifications.
"Our most often identified repairs to assist with aging in place are installing hand rails and bathroom grab bars; removing carpet and replacing with smooth surface flooring and ADA ramp construction," says Mike Lahoda, Director of Programs at Rebuilding Together Seattle.
Repairs and modifications help make a home more livable by incorporating the principles of visitability and universal design. A visitable home requires three basic features including one zero-step entrance, doors with 34 inches of clear passage space, and one bathroom on the main floor accessible by wheel chair. Universal design encompasses much more from replacing doors, faucets and handles to moving or removing throw rugs, electric cords and other barriers like furniture. AARP's HomeFit guide at www.aarp.org/homefit provides a checklist of age-friendly changes for both tenants and homeowners.
Housing improvements are also part of the region's commitment to be a community that accommodates all ages. Home repair programs include grants and low-interest loans that can be used to pay for interior and exterior repairs. To qualify, homeowners must be residents of Seattle with an income at or below 50% of the area's median income. Seattle, King County and other communities have repair programs for homeowners and tenants. Tenants often have a more difficult time convincing landlords to make reasonable accommodations to remain in their rental units. But the King County repair program for special-needs renters helps by offering grants to help modify existing rental units. More local groups are available to help with minor repairs, for renters and home-owners alike. Visit our resource section for details.
For some, home modifications won't be enough to facilitate aging in place. For others, large single-family homes are no longer desirable for a number of reasons, including care and maintenance. Those who are interested in age-specific residences such as retirement communities should start researching long before the move is planned. Consider what type of community you want and what your future needs may be. There are several resources available to help make a list of "must have" and "nice to have" amenities. A helpful place to start is www.retirementconnection.com, which offers a printed and online resource guide about local area communities. They can be reached by phone at (800) 462-1316.
Bottom line? An age-friendly community has affordable options for households with varying income levels and has homes with design features to accommodate people with limited mobility. If aging in place isn't right for you, check out some of the other trends for housing. The article "Alternative Housing for Seniors" (northwestprimetime.com/news/2018/mar/31/alternative-housing-seniors/) in the April edition of Northwest Prime Time details several options that are available in our surrounding community. Or check out www.northwestprimetime.com/housingguide/ for those contemplating a move to retirement housing communities.
If you would like to delve deeper into the housing issue, the King County Library System has compiled a booklist of resources on the topic of housing and community at kcls.org/housing.
Discussion Questions
How have family dynamics affected your housing arrangements?
What support do you need to stay in your current home if that is what you desire? How can you get that support?
Why did you choose your current home?
How do you establish your sense of home after a move?
Why do you think people resist moving when moving seems to be clearly in their best interests?
We often think of the American Dream with regard to housing. Does this resonate with you? In what way? How is the American Dream changing?
What innovations have you heard about/experienced with regard to housing? (Ex: Co-housing, the Village concept, homesharing match-up websites, etc.).
Resources
• Seattle residents can learn more about the city repair program at www.seattle.gov/housing/homeowners/home-repair. Phone: (206) 684-0244.
• Check with King County about its Housing Repair program for renters and homeowners https://www.kingcounty.gov/depts/community-human-services/housing/services/housing-repair.aspx. Phone: (206) 263-9095
• Learn more about Rebuilding Together's services at www.rebuildingtogether.org. Chapters are available in Seattle, Tacoma and Olympia. Phone: (800) 473-4229
• Sound Generations provides home resources for older adults including minor home repairs as well as information about saving money on your utility bills at www.soundgenerations.org. Phone: (206) 448-5757
• For information about home repair assistance beyond Seattle, visit www. washingtoncommunitylivingconnections.org and search by zip on "Home Maintenance and Minor Repair Services."
---
---
MORE INFORMATION
New Age-Friendly groups are forming – start one today!
Would you like to gather with others to discuss topics of interest to the 50+ crowd? Look for this new feature in every issue of Northwest Prime Time, brought to you by AARP Washington, King County Library System, and Aging and Disability Services–the Area Agency on Aging for Seattle and King County.
Each month we will feature an article about a "hot topic" of interest to older adults, along with suggested discussion points and resources. Perhaps you're already part of a group or maybe you'd like to form a new one. Meetings can take place anywhere people may want to congregate on a regular basis.
Upcoming discussion topics will include staying connected through communication & information resources, staying socially active, respect and social inclusion for older adults, options for civic participation & employment, community & health services, and transportation.
We want your feedback!
We encourage groups to provide input on this ongoing project:
• Snap a photo of your group and post it or any comments/ questions on AARP Washington's Facebook page at www.Facebook.com/AARPWA/groups; or
• email your comments and questions to editor@northwestprimetime.com; or
• call Northwest Prime Time at 206-824-8600; or
• mail us a note: Northwest Prime Time, PO Box 13647, Seattle WA 98198.
PRIZES!
• Each group that contacts Northwest Prime Time by email, phone or U.S. mail will be entered to win a $100 gift card to Starbucks so you can splurge on coffee and treats for your next discussion group meeting.
• Your group will also be entered to win the grand prize (to be announced) at the end of the year. No cost to participate; limit one entry per month per group.
DISCUSSION GUIDELINES:
A discussion group can be an interesting, stimulating way to add another social aspect to your life. Many groups start with friends coming together, or perhaps a group you're currently associated with will join this project. Groups sometimes start with a sociable chat over coffee or wine before getting down to business. It's good to agree upon a structure for the meetings; consider if having time-limits per person is important, for example. Flexibility, open-mindedness and common courtesy are essential. Listen to and respect all points of view, seek to understand rather than to persuade – you are there to share your views and experiences, and to discover new insights from others. A great way to start the first meeting is to have each person say who they are and why they want to be a part of the group. What are the expectations? When, where, how often, for how long will you meet, how will you contact each other and how the group will run are items to consider at or before your first meeting. Need help? Consider asking your friendly local librarian. Many libraries hold discussion groups and could be a great resource for those wanting to form a new group.
Call-In and Log-In Discussion Groups
Kitchen Table Talks: Starting on May 15 from 1-2pm, join a lively monthly conversation with Age Friendly Seattle about age-friendly communities. This month's topic is "Housing." This discussion opportunity is open to all.You can call in from anywhere, 206-386-1200 or toll-free 1-844-386-1200 (when prompted, enter code 6785562) or visit https://bit.ly/2HlxFTm (when prompted, enter code 6785562). For additional info, visit http://www.seattle.gov/Documents/Departments/AgeFriendly/KitchenTableTalks051518flyer.pdf, or if you have questions about this event ahead of time, call 206-386-1521.
SURVEY RESULTS
Thanks to all readers who contacted us last month in answer to the survey question, 'What's in a Name.' People reported that they had interesting, lively discussions on what people 'of a certain age' should be called later in life. Some don't want to be labeled at all. Many Baby Boomer-aged readers like being called boomers. Some boomers, along with their older counterparts, don't mind 'senior' because it is tradition and because of all the discounts that label brings! Some responders prefer 'mature adult' or age 50+ (or 65+ etc.),. And many, especially women, rather liked the term 'Golden Ager' (or 'Golden' and 'Goldeneer' for short). Some readers don't resonate with the term 'Elder' because it sounds too much like 'Elderly' or that it should only be conferred upon much older, wiser people.
And then there were the creative suggestions – here are only a few samples: midnighter, the distinguished, old rocker, young at heart, the fine wines, T Rex, older hipster, Level 80 (etc.), and one man (whose wife chose 'mature adult') said 'immature senior.' Thanks to one and all for your input!
---
---
Congratulations to the Domino Dames of Renton – their group (drawn at random from the groups that responded to the survey question) is the recipient of the first $100 gift certificate to Starbucks! We will give away another gift card to one of the groups that contacts us about this month's discussion.
Northwest Prime Time thanks the sponsors of the Age-Friendly Discussion Groups project: AARP Washington, King County Library System, Aging and Disability Services / Area Agency on Aging for Seattle and King County, Age Friendly Seattle
View and download this publication.
---
Inspire Positive Aging Award Winners!
The recipients of Sound Generations' 2022 Inspire Positive Aging Awards were celebrated at a June 16 luncheon.
---
A Birthday Gift Safety Manuel
I'm sure most men would agree that buying a birthday gift for your wife is fraught with danger
---
Filipino Village and Senior Housing Community Opens
Seattle's Filipino Community Village and affordable senior housing project opened in June
---
Where in Washington?
And the winner is...
---
Mt Si at Midnight
My best friend, Miggs, loved to climb and coaxed me up anything that was a hill if she could catch me in an unguarded moment. I hated a stiff climb, as even in those long-ago days I was plagued by shortness of breath. She could talk me into the effort by reminding me of how wonderful the view would be from the top. I have always been a push-over for a view.
---