Jean Smart: From Seattle to Hollywood and Back Again
September 1, 2017 at 8:15 p.m.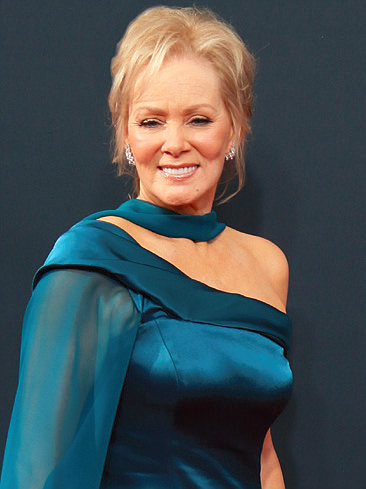 ---
You may recognize Seattle native Jean Smart from her breakout television role, sweet-natured Charlene Frazier in the sitcom Designing Women. Perhaps you remember laughing at her Emmy-award winning turn as Lana Gardner, the brassy former classmate of Kelsey Grammer's character in Frasier. She won a third Emmy in the sitcom Samantha Who? along with fresh accolades playing unstable first lady Martha Logan on the hit TV drama 24, as well as for her recent work on the FX network in Fargo and Legion.
The truth is, Jean Smart's theater, film and television credits (not to mention award nominations) are a mile long.
"We become actors because we don't want to do the same thing all the time," reports Jean. "I feel very lucky to have had a career where I was able to do so many varied roles and, for so many reasons, never really got typecast." Her versatility was evident when she went from playing naïve sweetness in Designing Women to her chilling portrayal of real-life serial killer Aileen Wuornos in the TV movie Overkill. Even prior to working in television, she had already made her mark with splashy roles on Broadway.

Earlier this year, Jean told Entertainment Weekly that she quickly discovered how different Hollywood was from the New York stage scene. For example, the lack of vocal exercises—the 'warm-ups' she was used to in theater. She mentioned the differences to her agent. "She was from the South," explained Jean, "and she said, 'You poor baby. You really don't know your a from apple butter, do you?' All evening I thought, 'Toto, we are not in Kansas anymore.' "
But before she swept into Hollywood, before she became the toast of Broadway, Jean started off her career with a bang in the Pacific Northwest. Long-time Seattle theater-buffs may recognize her from the Seattle Rep and Intiman Theatre.
---
---
Jean first discovered her love of theater at Ballard High School, and was later accepted into the BFA theater program at the University of Washington.
"I was at the UW for five years," says Jean. "It was great—with great visiting directors and great sets. There were 10 of us in the program, and we were together for three years. It was play after play after play…a wonderful time and a wonderful training ground, from Shakespeare to just about everything else," she recalls.
"I was lucky to make my living as an actor right away after college. I wasn't exactly making a lot of money," she laughed, "but I was young and single, and who cares about next month's rent! I was very fortunate to live in a city with a healthy theater community. Intiman was an extraordinary experience, with amazing, talented people."
Jean, who now lives in the L.A. area, fondly remembers growing up in Seattle. She was born Jean Elizabeth Smart on September 13, 1951, the second of four children. "It was a wonderful time, full of surprises. I loved growing up in Seattle. Things were different back then. We never locked our doors and we had a neighborhood full of kids. We'd ride our bikes around in packs and play kick the can until it was too dark to see the can. Our parents never knew where we were, they'd say, 'Just get home in time for dinner.' "
Jean still loves Seattle, and often visits family here. "Oh my gosh, yes, absolutely" she replied when asked if she still has ties in Seattle. "Both of my brothers and their families live there, and my mother lived there until she passed away last year." Jean called Seattle the perfect place, but lamented about not having time to really explore the area anymore. "It's terrible, because when I visit I don't have much time outside spending time with family. Maybe I'll sneak up and not tell anyone, and just go to a museum, a club and especially the Pike Place Market. There's nothing like that place on a nice day. You walk around, get smoked salmon, get a little something Greek, catch a ferry… Seattle is the best of both worlds. It's a cosmopolitan city with great opera, theater, music, comedy. And gorgeous physical locations, the water and mountains. A little less rain would be nice," she joked.
And speaking of family, it turns out the other cast members of Designing Women played a huge role in Jean's current family life. She tells the story of meeting her husband of 30 years, actor Richard Gilliland, who played the love-interest of fellow cast member Annie Potts. "I met him when he was kissing someone else," says Jean with a laugh. She later asked fellow cast member Delta Burke to find out if he was married.
"Naturally, Delta walked up to him and blurted, 'Jean wants to know if you're married.' " In an interview with designingwomenonline.com, Jean revealed that she 'lured' Richard into her dressing room under the flimsy pretext of needing help with a crossword puzzle. Soon, they were talking about marriage, and wed in June 1987 in fellow cast member Dixie Carter's (and her husband Hal Holbrook's) rose garden. Jean and Richard's son, Connor, was born in October of 1989.
The birth of their son was a joyous occasion, but Jean's pregnancy was not without complications. Jean, who was diagnosed with type 1 diabetes at age 13, spoke to Guide to Diabetes magazine about it. "I never paid any attention to the disease, and if I kept on taking it for granted, I could have ended up with very serious kidney or vision problems. It took me getting pregnant to whip me into shape; it's amazing what you'll do for a baby that you won't do for yourself. I stopped smoking, I started eating right…"
---
---
Jean became a mother again in May of 2009 when she and Richard adopted a 10-month-old baby girl from China. "She is incredible," gushes Jean. "And my son is living again at home right now. It's fun to watch them together I was hoping they would be a little closer in age, but the adoption process took so long," she explains. "Both my kids are such good people and so sweet. I'm grateful. The process of adopting was quite an experience, and my friends thought we were crazy at first. Now they are all jealous!"
Outside of family, work and frequent advocacy on behalf of causes she believes in, Jean doesn't have a lot of time for other activities. "It's really busy, and when you're not busy, you like to be with your family. It doesn't leave much extra time. But I have trained my little girl to go to garage sales on the weekends, much to my husband's dismay. There is always so much extra stuff in the back of my car and at home."
Jean's career has been long, varied and fulfilling. But is there anything she'd still like to do? "I would like to do another play in New York before too long. I've been offered a few things but, because the schedule is too disruptive to family, I haven't done anything since 2000," when she starred with Nathan Lane in the classic Kaufman-Hart comedy, The Man Who Came to Dinner. "Nathan is such a treat, it was a blast to work with him. We, most of the cast, did a staged reading of the play for a benefit about a year-and-a-half ago. I immediately flashed back to the original show, which was before 9/11. My parents had come out to New York to see the show and we went to the top of the World Trade Center. It was such a special night. My son, who was 10 at the time, was fascinated with the towers. He laid down on the ground and took pictures of the towers disappearing into the sky. It hit him, all of us, so hard when they came down a year later."
Jean has since lost both her mother and father, and was recently in a serious car accident which had her reflecting on the value of life. "My little girl was in the car with me during the accident. It was pretty bad. Both cars were totaled. I was banged up but, thankfully, everyone—in both cars—we were all okay. Every day when I look at my little girl I'm so thankful. I told her how brave she is. I always tell everyone to avoid taking a left turn when you can. Take right turns and go around the block instead. You have to be careful, especially as you get older." Jean remembers how concerned the family was when, at age 90, her husband's grandmother bought a bright red car. "She told us, 'I don't want to drive it, but I just like knowing it's there…' Her freedom was important to her. She was just adorable. But you've got to be careful."
Jean reflects on growing older herself. "I'm a diabetic, but I don't think about it very much or think of myself as someone who is sick. I recommend to others that you try very, very hard not to let any diagnosis become who you are. Put it in perspective and see yourself the way you want to.

One benefit of getting older is that I stopped caring about what other people think of me. You can't spend your time trying to please people who don't wish you well—it will make you crazy. Instead, surround yourself with people you care about and who care about you. My business (showbiz) is not particularly healthy, especially for women. I no longer try to alter myself and second-guess others, trying to fit into what they want. You've got to be yourself and figure out what makes you happy."
Smart advice to live by—thank you, Jean!
MORE INFORMATION
Seattle welcomes back Jean Smart on September 27 for "The Alzheimer's Talks," a lecture series meant to provide hope, presented by The Art of Alzheimer's and UW Medicine.
Jean Smart is an Alzheimer's champion who frequently lectures on her family's experience and the realities of caring for those with Alzheimer's. Jean's father, Douglas, died of Alzheimer's disease, and Jean has become a tireless advocate for finding a cure for the disease.
Jean explains, "My father was my hero. I can't say enough about him and everything he did for me and my family. I have three siblings and we're very close and going through my father's illness only made us closer. Whenever I'm asked to speak, I do it to honor my daddy, I do what I can to help."
• Jean Smart's talk takes place on September 27 at 7:30pm in Seattle's Benaroya Hall
• Tickets are $35; for more information, visit www.theartofalzheimers.net

---