The hills are alive with culinary treasures
Travels with Deb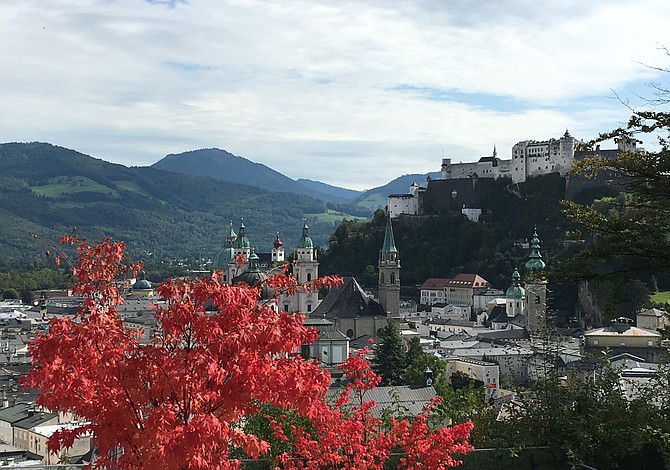 The act of toasting in Austria is a custom with its own set of rules. As a visitor to this land of sophistication and unassuming elegance, it's important to know the correct protocol. You must make eye contact with each and every person at the table, loosely hold your wine glass by the stem and solidly clink on a slight diagonal plane to achieve the ideal ring. And, remember to never cross paths with someone else's toast, as this would be considered rude. Following these guidelines is trickier than you might imagine, particularly the aspect of eye contact. Austrians believe it's essential to acknowledge everyone individually, as it gives special meaning to the toast. It's all about making a personal connection. Know that you'll get plenty of practice, as it's common to toast multiple times during the course of a social gathering.
There's so much to love about Austria, from its imperial grandeur and famed cultural attractions to its fabled Alpine peaks and pristine natural settings. This is a country that embodies the great European traditions with a rich and colorful history that has been well preserved over the years. It's also a destination that boasts a noted culinary scene, with internationally acclaimed restaurants, innovative chefs and farm-to-table traditions that have age-old roots.
Austrians take great pride in the preparation and presentation of food, and dining is an experience to be savored one bite at a time. Meals present an opportunity to socialize, as well as to appreciate the act of eating good food in a convivial ambiance. This holds true, even when it comes to "grabbing coffee," a concept that is foreign to most Austrians, who rarely rush their java time. For them, coffee means life. This perspective is responsible for the well-established coffeehouse culture that reigns supreme here. Its origins date back to the 17th century when only men were allowed inside the hallowed coffee salons. In Vienna, the coffeehouse is a veritable institution that has achieved World Heritage status. Such places are welcome oases, ranging from formal establishments steeped in tradition to cozy cafes and tiny espresso bars.
You could spend days checking out the coffeehouses in Vienna. Each has its own unique character. For a neo-Renaissance style decor with beautiful frescos, there's Gerstner, across from the Opera House. If you want to drink your cup of joe where Trotsky, Lenin and Freud are purported to have done, make a beeline for Central Café. And if you wish to enjoy having your afternoon pick-me-up in a place that bears the distinguished title of being a Purveyor to the Imperial and Royal Court, then Demel's in the Old City is a must. This popular café is also famous for its scrumptious pastries and sweets that you can observe being made in the glassed-in kitchens. The wait staff are formal in manner and attire here, but they allow you to get up and leisurely peruse the cakes to make your selection. Know, however, that white tablecloths come at a cost if you're not ordering a meal!