Memories of Edgar
Sharing Stories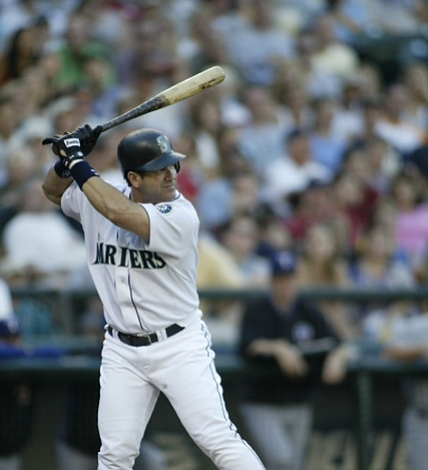 His stats—including a 68.3 lifetime Wins Above Replacement (WAR)—say he deserves the Hall of Fame. As Seattle Times sportswriter Matt Calkins points out, Edgar is one of just 21 players in major league history with a career batting average over .300, an on-base percentage over .400, and a slugging percentage over .500. Not to mention a seven-time All Star with a 10 for 16 lifetime record against Yankees ace reliever Mariano Rivera.
Still, some people feel designated hitters don't deserve to be in the Hall of Fame. In January, on his eighth ballot, Edgar got 58.6 percent of the vote. He has two more chances to get the required 75 percent. Saturday showed that he'll always be top of the ballot in our hearts.
It's been 16 years now since the M's have been in the playoffs, and they're one of only two teams in the MLB not ever to appear in the World Series.
Here in Seattle, we're wearing our Seahawks blue on Fridays and have gone back to talking about the weather and how traffic gets worse and worse with all these new folks moving in.
After the ceremony honoring Edgar, the M's took the field and lost 6-3 to the Oakland A's, slipping a game out of the second wildcard spot. Meanwhile, as the ESPN app on my iPad informed me, the Cardinals won their eighth straight and moved into a tie for first in the National League East.
Miss you, Edgar! And go Cards!
© 2017 Christine Dubois
Christine Dubois is a widely published freelance writer, writing coach, and baseball fan who lives in Bothell. Visit her at www.christinedubois.com.
SHARING STORIES is a weekly column for and about the 50 plus crowd living in the Puget Sound region. Send your stories and photos to ariele@comcast.net. Tell local or personal stories; discuss concerns around aging and other issues; share solutions, good luck, and reasons to celebrate; poems are fine too. Pieces may be edited or excerpted. We reserve the right to select among pieces. Photos are always a plus and a one-sentence bio is requested (where you live, maybe age or career, retired status, etc.).
SHARING STORIES is featured on www.northwestprimetime.com, the website for Northwest Prime Time, a monthly publication for baby boomers, seniors, retirees, and those contemplating retirement. The newspaper can be found in the greater Seattle area and other Puget Sound locations. For more information, call 206-824-8600 or visit www.northwestprimetime.com. To find other SHARING STORIES articles on this website type "sharing stories" in the search function above.