Garden d'Lights
How it all began...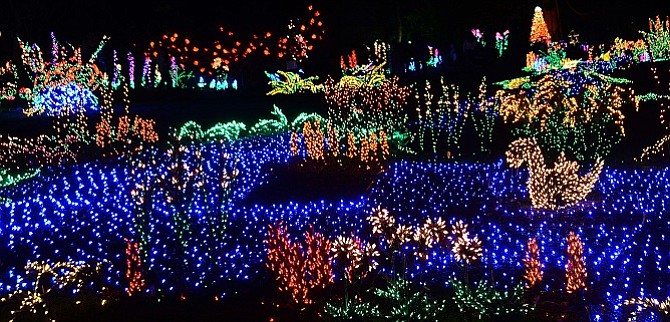 Downtown Bellevue has become a visiting-must in the weeks leading up to Christmas (Bellevue.com/snowflake-lane.php). The area surrounding the Bellevue Collection (formerly Bellevue Square) makes use of unique displays to lure shoppers and residents. Live, immaculately costumed drummers and dancers line street corners near NE 8th and Bellevue Way. Additional music, special lighting and artificial snow drifts to the street from above. Showtime is usually around 7pm, but you may wish to come early for holiday shopping as parking can get congested.
Two of my favorites from the Seattle area are Olympic Manor and Candy Cane Lane. Olympic Manor, developed after the closure of the Olympic View Golf Club some sixty years ago, involves an entire neighborhood where it appears each resident tries not to be outdone by their neighbor. This area is best reached by entering from NE 85th Street and 123rd Avenue NW. Candy Cane Lane is also a neighborhood decorating affair, located at Park Road NE off NE Ravenna Boulevard, near Ravenna Park. Each year features a new light theme and it is always worth the visit. Although you can drive through the neighborhood, we found the short walk gave us a chance to savor the experience while other holiday-spirited locals joined us on the sidewalks.
Each year, Bellevue Botanical Gardens (please see article above) has volunteers who spend thousands of hours fashioning strings of garden-themed lights throughout their grounds. Viewing the display involves walking the garden, but is worth the effort...and please don't forget your camera. Flowers, frogs, spider webs, slugs and butterflies surprise you from each turn of the trail. (www.gardendlights.org, $5).
Commercial displays over several acres are available for viewing at Wild Waves, 36201 Enchanted Parkway S in Federal Way (www.wildwaves. com, $14.99); Point Defiance Zoo and Aquarium at 5400 N Pearl Street in Tacoma (www.pdza.org, $8.50 online admission or $10 at gate); Seattle's Woodland Park Zoo's Wildlights includes indoor snowball fights at the Snomazium (www.pdza.org, $7.95-$9.95); Ivar's Clam Lights at Renton's Coulon Memorial Beach Park on Lake Washington offers a free one-mile loop walk along the lake (www.rentonwa.gov/clamlights); Lights of Christmas in Warm Beach Camp in Stanwood is the largest light display in the Northwest (www. thelightsofchristmas.com/festival, $10-$16 or pay-what-you-can nights); and Fantasy Lights at Pierce County's Spanaway Park near 152nd St and Pacific Ave 253-798-3330 ($14 per vehicle with several ½ price nights walk through $4 per family of 4). Fantasy Lights is the largest drivethrough display in the Northwest and involves a two-mile drive along Spanaway Lake.
Please use the contact information provided for your directions, days and hours of operation, plus detailed admission charges. Displays at most commercial areas start around November 25. There is not space enough to list the other numerous and worthy light displays available. Enjoy your tour of this year's Christmas lights and feel free to e-mail me if you have favorites of your own. Perhaps I can use your input to offer a more detailed selection next year!
Questions or comments contact Roger Urbaniak urbaniakr@comcast.net
Editor's Picks