Meet Anna, Holocaust Survivor
Anna speaks about her experiences at an event on June 27
Lillian Claunch | May 28, 2017, 9 a.m.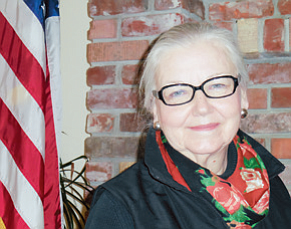 In Rosenheim, the prisoners were used as guinea pigs for experiments. My sister, Halinka, died from drug tests. My mother was allowed to see her son, Janusz, through a peephole in the door. It tore her heart to see him speaking only German. After Halinka's death, my mother was determined to rescue her son. To get into the ward, she outfitted herself with mop and bucket and sneaked into the room where he was sleeping. She lifted her little son wrapped in the bedding, and climbed out the window.
In May of 1945, the camp was liberated by the American army. There was heavy bombing and we were buried under the rubble. A soldier heard a baby wailing and started digging. We were all under one of those big wooden bunks. The soldier pulled us out; we were lucky, but many others died. That day was our first encounter with the U.S. army.
For the next five years, we lived in refugee camps. The Army fed us with the same food they ate. They were kind. And they made it possible for my family to come to America. We owed them our lives."
I asked Anna what was her first memory. She replied, "I remember playing with other children in the rubble at a refugee camp. We found whistles that we blew to imitate the sound of a bomb before it exploded. Then we shouted boom! And laughed. We sailed to America on a Navy troop carrier, the SS Tilton. Music greeted us when we landed in New Orleans. I was five-and-a-half years old. I was awed at the very young soldiers' beautiful red uniforms. 'Those aren't soldiers. That is a high school band,' people told us.
From there we travelled to Texas where our sponsors found work for us. Growing up in San Antonio, Texas, home of Lackland Air Force Base and Fort Sam Houston, there were always soldiers around. I was instructed to treat them with great respect because of the sacrifice they were making. American soldiers are angels here on earth, helping to set people free."
Anna, full of life, what a joy it is to have Anna as a volunteer in our kitchen every Thursday… and what an adventure I've had interviewing and writing her story!
Anna will speak in more detail about her life in a special program titled WWII Immigrant Survival Story, Tuesday, June 27, 7pm, at the Des Moines Activity Center, 2045 S. 216th St. For details, please call 206-878-1642.