Spring vegetable fettuccine is delicious without too much salt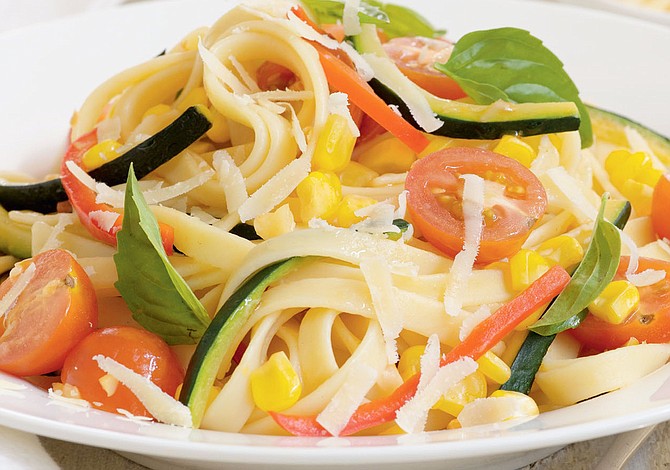 To liven up the flavor of your food, just add salt. Sounds like good advice, right? Wrong.
Historically, salt has been added to food for two reasons: it's a flavor enhancer that makes food taste better, and it is used to preserve food. In the past 25 years, America's consumption of salt has almost doubled. This is partly due to consumers' desire to have foods without preservatives. Now our store-bought breads are "preservative"-free. Unfortunately, they have twice the amount of salt in them.

Salt is found in almost all processed foods—anything that comes in a box or a can. Even organic foods pack too much salt when we buy them canned. Take a look at labels to help determine how much salt you are feeding yourself and your family.
And follow the refrigerator rule: If you can keep a food longer than a week in your refrigerator, it could be high in salt. Instead, buy fresh foods and develop the flavor with fresh herbs and spices rather than salt.
The recommended level of sodium in your diet for most people is between 1,500 and 2,400 milligrams per day.
You can avoid salt in foods by following some simple guidelines:
• Cook fresh: Most fresh foods such as produce, meats and poultry contain minimal amounts of natural sodium. Watch out for meats and poultry that have been enhanced with extra salt.
• Cook fast: Learn five to seven recipes you can fix in 15 or 20 minutes with ingredients you usually have on hand. Then when you are crunched for time, you can reach for healthy choices instead of salty ones.
• Cook ahead: Make homemade chicken noodle soup, seafood gumbo or chili for dinner. Package up the leftovers and freeze for lunches.
Next time you are in a hurry, try this tasty recipe. It is low in sodium and high in flavor, and you can adapt it to whatever you have in the refrigerator!
Quick Fettuccine
1 package whole grain pasta
1 8-oz. package Neufchatel or cream cheese
½ to 2/3 cup boiling water
2-3 cloves garlic, minced and browned in 1 teaspoon oil
½ cup minced parsley and fresh or dried basil
1/4 cup grated fresh Parmesan cheese (about ½ ounce)
1-2 cups chopped asparagus, broccoli, peas, green beans or any veggies (optional)
Boil water in a saucepan. As it heats, put oil in frying pan and sauté garlic. Add meat or veggies. Once water is boiling, remove 2/3 cup and set aside. Add pasta to water in saucepan to cook, and drain when it's done. For the sauce, mix cheese, herbs and 1/2 cup of the boiling water you set aside. If sauce is too thick, add more water. Pour into frying pan over sautéed garlic and veggies. Pour over pasta and enjoy a low-salt, healthy meal!
Serves four. Prep time is 10-15 minutes. Nutrient content for sauce plus pasta, asparagus and chicken: Per serving: 376 calories, 350 milligrams sodium, 14 grams fat.
The information in this column is meant for people who want to keep their kidneys healthy and blood pressure down by following a low-sodium diet. In most cases, except for dialysis patients, a diet high in potassium is thought to help lower high blood pressure. These recipes are not intended for people on dialysis without the supervision of a registered dietitian.
[Katy G. Wilkens is a registered dietitian and department head at Northwest Kidney Centers. The 2014 recipient of National Kidney Foundation Council on Renal Nutrition's Susan Knapp Excellence in Education Award, she has a Master of Science degree in nutritional sciences from the University of Washington. See more of her recipes at www.nwkidney.org.]