Northwest Best Places to Retire Annual 'Round-Up'
Jul 1, 2017, 9:59 p.m.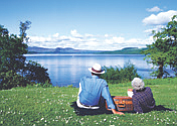 While Seattle and environs makes almost all of the "Best Places to Live" lists, in recent years it has been bumped out of "Best Places to Retire" lists because of congestion and cost-of-living issues. Visiting or living in Seattle made the list of the "100 Things to Do in America Before You Die."
Spokane wins this year's award for being cited most often in the national 'Best Places to Retire' surveys. Kiplinger. com lists Spokane as one of their "top cheapest places where you'll actually want to retire," not only because of its affordability but because of access to nature including mountains, lakes and rivers, 33 golf courses, and numerous wineries, breweries and distilleries. US News & World Report also calls Spokane one of the top places to retire in the country on a modest budget. "Spokane might be best suited to active retirees who love the outdoors." They note several nearby ski resorts, high performing hospitals and a low median cost of living. Time magazine rated Spokane as the best in the west for the top 10 cities to retire – again, the only Washington State city to make the list. They cite Spokane's affordability, including the tax burden, access to high quality health care, and the benefits of being a university town. "There is always something interesting going on her," says Wayne Sheehan, 76, who moved to Spokane from Texas in 2014 with his wife Marilu. The downside: Spokane can feel somewhat remote, especially for those wanting to travel.
Niche.com lists Vancouver as Washington's top city to retire, followed by Bellevue, Spokane, Tacoma, Seattle, Kent, Everett, Carlsborg (near Sequim) and Grays Harbor's Aberdeen Gardens. Redfin calls the Woodbridge neighborhood of Bellevue the second "hottest" neighborhood in the country, while the Wall Street Journal said the San Juan Islands has "the hottest luxury home market in the country." Business Advice Source said Bellingham is the third best place to live in America (Northfield, Minnesota topped their list). US News called Jefferson County (think Port Townsend) as a retirement haven.
Where to Retire magazine has highlighted several Washington State towns and cities this past year. They advise taking a road trip to the sunny south-central Washington cities of Ellensburg, Tri- Cities and Walla Walla to check out these popular retirement destinations. Where to Retire highlights the tax-friendly benefits of living in Vancouver, Washington. Wenatchee was recommended, in part, for its revitalized and thriving downtown. Head to Port Angeles, they proclaim, for a multifaceted outdoor life, and Port Townsend was featured for it's "balmy beach locale."
According to Wallethub.com, Washington has one of America's best economies, is a top "Greenest" state, and is considered the sixth "Safest State in America" (Vermont is #1). Seattle is one of the top "Healthiest Cities" and Washington is considered a top "Happiest State" despite the gray skies! SeniorAdvice. com lists Seattle as a top gay-friendly retirement destination.
Despite all the raves and reviews of far-flung places, being near family and friends always ranks as the very best retirement destination for most retirees. Wherever your retirement takes you, Northwest Prime Time wishes you a happy and healthy adventure.