Leaving the Rat Race for the Wild Life
...and finding a dream retirement destination
Jul 1, 2017, 9:25 p.m.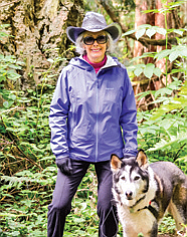 One concern when they moved was Diane's parents. Her father died earlier this year at age 97. Diane moved her mother to an assisted living community on Whidbey Island to be near her.
"Mom is 97 and still going strong. She was in assisted living back home, but she needed more of my care. We moved her up here to Whidbey. If she needs me, I can drop everything and be there in minutes. It's close, yet she has her independence and I have mine. All of the infrastructure we need is right here on the island with good medical care and anything else we need."
And Whidbey Island is so large and with easy access to the mainland, explains Diane, that she never gets 'island fever.' With abundant nature, beautiful parks, endless beaches, charming towns and friendly islanders, Whidbey Island is Diane's own slice of heaven. "It offers a great mix of everything," she exclaims.
When asked if there are any drawbacks to living on Whidbey, Diane replies, "I can't think of a one." Would she recommend it as a retirement destination? "1000 percent! We did a lot of research about retirement destinations before we moved here. If you love nature, it's one of the top places to consider." She highly recommends taking a step back from the concrete jungle into pastoral living.
Diane de Mere documented her journey from board room to the great outdoors and published a book about it: "Happy Tales: How to Manage Stress and Find Peace and Joy." Her story is set against the background of changing careers, relationships with elderly parents and wonderful animal stories along the way, including adventures in nature, the wildlife she meets and the high jinks of her rescued pets. "I was searching for new ways to manage stress and find peace and joy," said Diane. "What I found was myself and my own strength." Her book is available at WestBow Press, Barnes & Noble, and Amazon.