Inspire Positive Aging Awards
Jul 1, 2017, 10:18 p.m.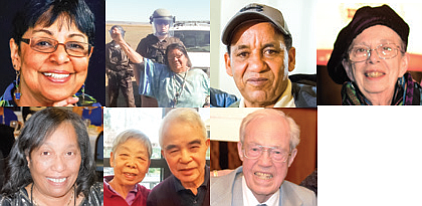 Sound Generations celebrated the 12th Annual Inspire Positive Aging Awards by recognizing 56 inspirational older adults from diverse communities throughout King County.
Seven award recipients were acknowledged for their exceptional contributions:
• Barbara Peete, 75, received this year's 'Community Service' award. Among other contributions, she manages the Bid Whist program at Central Area Senior Center. Every week, more than seventy people come from all over King, Pierce and Snohomish counties to play the card game and enjoy the potluck and music. She is respected by all, and when the center needs someone to represent them, members always select her to be their spokesperson.
• Feanette Black Bear, 64, was honored with the 'Advocacy + Activism' award. Feanette inspires others through her strength, resilience and advocacy on behalf of indigenous communities. A Lakota elder, she has been involved with the movement to support the Standing Rock Sioux Tribe and the water protectors in North Dakota, among other causes. She is fluent in the Lakota language and is often honored to share a prayer at gatherings. Her wisdom is a gift to younger generations, and her love for her community and her bravery are unfailing.
• Michael Neguse, 61, received the 'Health + Wellness' award. Michael is devoted to helping those who are undeserved and has strong ties to King County's East African and refugee communities. Through his work with senior meal programs, he helps provide more than fifty seniors with free and culturally relevant meals, current events information and bus tokens. He also speaks four languages, and uses his language skills to educate people of all ages about emergency preparedness. He is also involved with ReWa, Seattle Tilth, Seattle Neighborhood Group, Immigrant and Refugee Affairs, and Rainier Beach Urban Farm and Wetlands.
• Pam Berry, 74, received the 'Intergenerational Impact' award. Pam has been working in the community for over 30 years, bringing music training to children in the Southeast Seattle Community Youth Orchestra. She and her husband have contributed their own funds to the orchestra and to helping children in other areas of their lives. Her enthusiasm for the children is contagious, and she often inspires others to help out – a skill that her nominator describes as 'uncanny' – "She asks others to do things and before they know it they're cooking and working with her. I have found myself in tears laughing about how she made me do it." Through her selfless determination, Pam shows that you can be a great example to your community and to young people at any age.
• Kelsi Watson, 67, was honored for 'Lifelong Learning'. Though she is legally blind, Kelsi does not let this stop her from joining in many activities at Central Area Senior Center such as the Sliders – a dance group that meets for exercise and performs out in the community. Others are inspired by her rhythm and ability to perform by listening to the music and the instructors. She also attends monthly membership meetings and regularly offers suggestions to improve the center. If there is a resource lacking (such as special BINGO cards), she'll go out and purchase them, always declining offers to be reimbursed. Through her thoughtfulness, sense of humor and good attitude, she demonstrates that she does not suffer from a disability but rather is fully capable.