Understanding Pain
Sharing Stories
Ariele M. Huff | Feb 13, 2017, 11:06 a.m.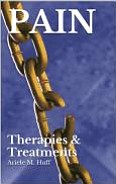 Understanding Pain Ariele M. Huff
First: Pain and Pleasure are identical twins. Yes, that's a hard one to wrap your mind around!
Most people spend their lives seeking to increase the one while decreasing the other.
Whether physical or emotional, pain is considered the enemy, a thing to run from and a source of shame. The fear and shame rise out of a false belief that pain is a demonstration of weakness and failure while pleasure equals strength and success. Or that those in pleasure are lucky while those in pain are unlucky. In actuality, everyone experiences both—it's all in how they are handled!
Let's look more deeply at the similarities between physical pain and pleasure.
1) Both are sensations.
2) As sensations, both are changeable—they don't stay at the same level and don't occur constantly.
3) Both rise and fall in lesser or greater arcs or levels. The commonly used range is one to ten with intense feelings at ten and imperceptible or minimal at one.
4) At a 9 or 10 of either, people drop out of cognitive control as at the peak of orgasm or prior to passing out from pain.
5) P & P are caused by the exact same physical bodily experiences:
A) Temperature—hot or cold, warm or cool
B) Pressure—swelling or contact (as in bone-on-bone arthritis)
C) Movement—perceived as friction or itching
D) Sense information in terms of smells, visuals, sounds, or tastes
6) Some people have more control of and comfort with sensations. I look at methods for doing this in my class Pain: Therapies and Treatments.
7) Physical and emotional elements affect each other strongly in both the pain and pleasure experience.
8) Some people experience pain where others experience pleasure from the same stimulus and vice versa.
9) Because pain and pleasure fluctuate in occurrence and intensity, they are both amenable to being changed—made less or more frequent, less or more intense.
10) Because of all these similarities, methods used to increase and decrease can be used in both pain and pleasure.
11) Because P & P are so similar, the positive emotional rewards accompanying each can be shared. (Enjoyment for pleasure, courage for pain...and vice versa!)
12) Because they are so similar, ways to banish negatives can be interchanged or borrowed too. (Fear and shame both can accompany pain AND pleasure.)
Workshop—PAIN: Therapies & Treatments 2/18 Saturday 10am to 2pm at Shoreline CC, 16101 Greenwood Ave. North. ONLY $10—A buffet of useful remedies and methods to try. Even if you've failed to find adequate pain management techniques in the past, these are some amazing and easy strategies rooted in traditional medicine and alternative healing systems. Call 206-533-6706
A third generation Seattleite, Ariele Huff leads writing groups at the Shoreline, Greenwood, Mountlake Terrace, and Edmonds Senior Centers and teaches writing classes through Everett and Cascadia Community Colleges. Her classes on Pain, Getting Rich, and making eBooks and paperbacks are through the Bridges to Shoreline program at Shoreline Community College.
SHARING STORIES is a weekly column for and about the 50 plus crowd living in the Puget Sound region. Send your stories and photos to ariele@comcast.net. Tell local or personal stories; discuss concerns around aging and other issues; share solutions, good luck, and reasons to celebrate; poems are fine too. Pieces may be edited or excerpted. We reserve the right to select among pieces. Photos are always a plus and a one-sentence bio is requested (where you live, maybe age or career, retired status, etc.).
SHARING STORIES is featured on www.northwestprimetime.com, the website for Northwest Prime Time, a monthly publication for baby boomers, seniors, retirees, and those contemplating retirement. The newspaper can be found in the greater Seattle area and other Puget Sound locations. For more information, call 206-824-8600 or visit www.northwestprimetime.com. To find other SHARING STORIES articles on this website type "sharing stories" in the search function above.