Not Your Father's Hearing Aids
The latest news in hearing aid technology
Kat Bakhmetyeva, Evergreen Speech and Hearing Clinic | Apr 28, 2017, 6:15 p.m.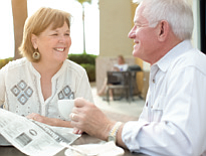 Over the past decade we have seen remarkable technological improvements in hearing aid instrumentation, going from relatively simple and slow digital amplifiers to mind-blowing signal processing speeds and miniaturization. Most notably, today's top-of-the-line hearing instruments can now process wirelessly between the ears, analyzing the location of sound in the environment and rapidly separating speech from noise and helping to maintain natural 3D spatial perception. Speech clarity is significantly improved as well as the quality of music.
For those who are tech-enthusiasts, today's modern instruments can be integrated in to the wearer's high-tech living space directly through smart phone capabilities. With an effortless flick of a finger, users are now able to use hearing aids as customized earphones, connect to the TV set, mute the surrounding noise and choose suitable hearing programs based on their ongoing activity.
Some of the newest hearing aid models now come with rechargeable batteries that only need to be replaced once a year. With the option of charging the hearing aids overnight, we are able to eliminate the hassle of changing dead batteries in unexpected or untimely situations.
With all the technological advances, there are significant ways to improve one's receptive communication. However, without proper implementation these tools fall short. The skills of an audiologist are essential to best tailor your device for a particular listening experience. He or she performs outcome analyses such as real ear microphone measurements, speech in noise testing, and subjective assessments of hearing aid benefit and satisfaction. At Evergreen Speech and Hearing Clinic we are able to offer the best care possible. As a practice with hearing and speech clinicians working under one roof, we address all communication disorders through comprehensive therapy programs built by audiologists and speech language pathologists. Our collaborative approach to customizing treatment plans is unique to every patient and ensures a satisfactory outcome.
To celebrate Better Hearing and Speech Month and raise awareness about communication concerns in our community, we are pleased to invite you to our Hearing Event on May 16-18 held in our Redmond, Bellevue and Kirkland locations. We will be offering hearing consultations with our audiologists and demonstrations of the newest hearing aid models free of charge. The purpose of this event is to help our community members and existing patients improve their hearing issues by finding the right device to fit their needs.
Call us today to learn more information about our special event and make an appointment for a free consultation: 425-882-4347 or visit our website at everhear.com.