I Can't Stop Racing
Gail Galbraith Everett | Apr 28, 2017, 5:48 p.m.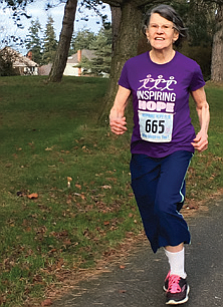 At last I reached the three-mile mark. "Almost there," the volunteer called out. "Go for it!" "Thanks," I gasped and spurted to the end. As I staggered under the "Finish" banner, I mumbled my thanks again, this time to the folks who waved and cheered. Hot and a little wobbly, I had finished another 5K.
When none of the super-grandmas like Louise Mihay from Olympia are there, I sometimes win the over-seventy division. Ever hopeful, I waited around for the awards. But this time the highest division was sixty and over. Youngsters in their sixties had bested me. I swallowed my mild disappointment. The real award was joining all those fun people at an amazing event. And great news: the Inspiring Hope Run earned $6,500 to fight breast cancer.
I've registered for 2017 Inspiring Hope 5K. Health publications for seniors insist that exercise helps keep body and brain alive. Realizing that a fall or illness could stop me at any moment, I'll thank our Lord for strength each morning and keep running as long as I can.
The 2017 Inspiring Hope Run and Walk, which raises money for breast cancer research, takes place on May 13 in Mukilteo. For information, visit www.inspiringhope.info