I Can't Stop Racing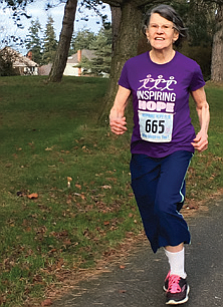 Just days before my 80th birthday I ran the Inspiring Hope 5K.
Did I bound out of bed the morning of that race? Not quite. There's always an excuse for staying home…fatigue, aching muscles. That day a headache brought on by spring pollen.
I eased out of bed, popped an Advil and got moving, determined to run Inspiring Hope again this year. It offers a route overlooking the Sound, dedicated volunteers and tasty snacks afterward. Most important, it benefits the fight against breast cancer, and my sister is a survivor.
At 8am, headache gone, I arrived at Kamiak High School. When the loudspeaker announced start time, I lined up for the second wave, behind the speeders, ahead of the walkers. The gun banged and we were off. Already breathing hard, I tried to ignore the tightness in my thighs I always feel at the start of a run.
As runners at the front of my wave sped off, I looked for someone to chase. Not too far ahead I picked out a youngish guy who looked promising. A bit rotund, wearing a purple hat, green shirt and yellow shorts, he'd be easy to keep in my line of vision. Sad to say, I never quite caught up with him, but he helped spur me on.
Among all these young folks, did I, at age 80, feel out of place? Did they look at me funny as they passed? No. Old lady runners no longer excite wonder and concern. So much has changed in 30 years. When Catholic Sister Marian Irvine, at age 54, ran track and field events in the 1984 U.S. Olympic trials, she was the oldest participant. When she ran people shouted "Go Grandma!" And that was when she was in her fifties!
I've always liked to run, but when I was growing up, track was for boys. In 1972, Title 9 finally opened up track and field for high school girls. And soon middle-aged women like me began running road races. At last I could actually compete in a sport! I ran my first 10K in my late forties, and with minor ups and downs, I've been running ever since.
But why were these miles so much longer than the ones on my two-mile runs from home? Just getting to the first mile-marker seemed to take forever.
I soldiered on, remembering an old English rhyme, "One foot up, the other foot down. That's the way to London town." To the volunteers in purple t-shirts who called out encouragement, I mouthed a breathless "Thank you."
My throat felt parched by the time I staggered to the halfway mark where kids handed out cups of water. I grabbed two, gulped them down greedily, and kept moving.
Was I having fun? Not really. Even running along a seaside boulevard with supportive fellow runners and volunteers who cheered me on, it was hard. "If one could run without getting tired, I don't think one would often want to do anything else," C.S. Lewis wrote in one of the Narnia books I love. Trouble is, I do get real tired.
Editor's Picks