Bewitching Baja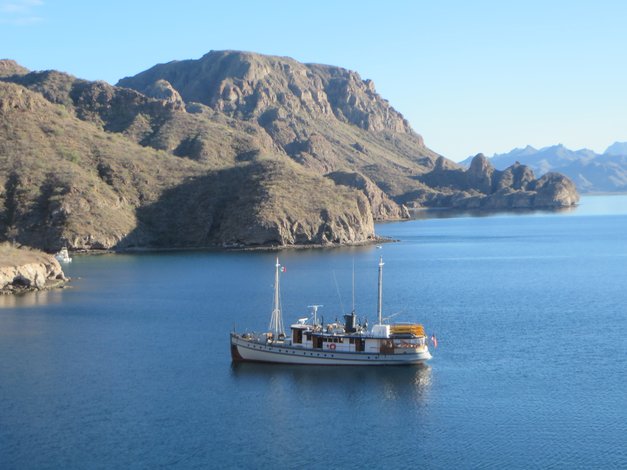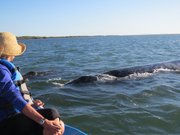 I've seen many Oscar-worthy productions in my life, but perhaps the most memorable was performed by a pod of gray whales at Lopez Mateos in the Sea of Cortez. Our panga, or small boat, was surrounded by these magnificent creatures as they spy-hopped, spouted, rolled over and displayed their distinctive flutes to an audience of star struck onlookers. The dramatic show reached its climax when several of the moms proudly brought their seven week-old calves to the side of our craft and we reached out to touch them. It was pure magic and I like to believe that both whales and humans shared in the joy of this incredibly special moment together.
While whale watching is definitely one of the highlights of a trip to Baja California, there are so many other noteworthy experiences to be had in this unique region of Mexico. Located in the northwest section of the country, Baja California is an 800-mile narrow peninsula that separates the Pacific Ocean from the Gulf of California, also known as the Sea of Cortez. Despite proximity to the U.S. and rapid growth in tourism, the vast majority of the area has remained a wild and untamed paradise with an air of isolation that sets it apart from the rest of Mexico. Graced with mesmerizing desert landscapes, lush oases and rich marine life, Baja is an enticing destination that begs to be explored in a myriad of ways.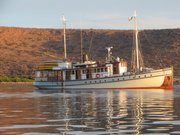 The most optimum scenario is to ply the waters in a boat, allowing you to appreciate the beauty of the sea and its vibrant life, while also offering opportunities to enjoy adventures on shore. Aboard Pacific Catalyst II's M/V Westward, passengers spend time discovering both milieus from the comfort of a treasured wooden vessel. The company's eleven day "Baja and the Sea of Cortez" trip gives travelers the best of both worlds. And with only eight passengers and a crew of four, you are guaranteed to have an intimate experience with like-minded companions.
Designed by Northwest Naval architect, L.E. "Ted" Geary, the Westward is modeled after a salmon cannery tender and constructed around a 1923 Atlas engine. It was launched in 1924 as the flagship of the Alaska Hunting and Cruising Company and pioneered hunting, fishing and adventure travel in remote regions of Washington, Alaska and British Columbia. Over the years, the Westward served an esteemed clientele including such well-known personalities as Bing Crosby, Walt Disney, John Wayne, E.F. Hutton, George Eastman and Marjorie Merriweather Post.
In the mid-70s, the boat was purchased by Donald and Anna Louise Gumpertz and moved to L.A. where it cruised the world, doing a 47,000 mile circumnavigation of the globe. Later, Hugh Reilly bought the Westward and returned it to the Pacific Northwest to resume her career as a charter and expedition vessel in Southeast Alaska.
Today, the boat is owned by Bill and Shannon Bailey, who run Pacific Catalyst II, an adventure travel business that operates small ship cruises in the Pacific Northwest, Southeast Alaska and Baja. The couple also own the M/V Catalyst, another historical craft that had its beginnings as the University of Washington's first oceanographic research vessel back in 1932. Captain Bill views himself as a "steward" of an important piece of history and believes he has a responsibility to preserve a legacy of the past. He says, "I want to keep the old boats going. Besides, I can't think of another job I'd rather be doing. I have the best cubicle on the planet."