The Anasazi never had it so good!
Travels with Deb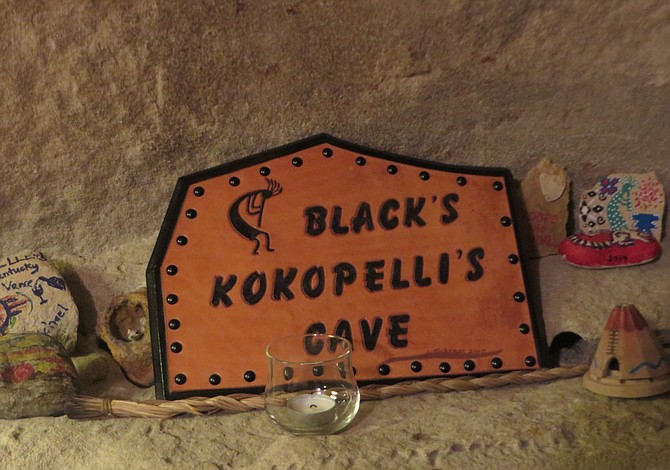 I've stayed in a number of interesting places over the years, including an ice hotel, treehouse, yurt and even an Earthship. But, I think the most unique accommodations to date has to be a cave. You're probably thinking, as I did initially, that such subterranean quarters would be dark, damp and claustrophobic. Kokopelli's Cave, however, isn't anything like you'd imagine. It's akin to a five star B&B, complete with all the amenities you'd find in a luxury inn.
This unusual lodging option is a northern New Mexico gem and though it may be hidden from public view, it's actually an international phenomenon, booked solid months in advance. The place has received rave reviews in numerous magazines and newspapers, and has been featured on T.V. shows such as "CBS Morning Show" and the "Oprah Winfrey Show." It is currently ranked third in the world for "unusual accommodations" by National Geographic.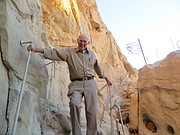 The story begins in 1980 when Bruce Black, a retired Rear Admiral and professional geologist, had the idea to build his office in a cave. He owned land in Farmington, New Mexico, where he had been living and working as an explorative geologist for the Shell Oil Company, then later as a consultant. He was inspired by American Indian architecture and wanted to create a hideaway reminiscent of those of the Anasazi, but he discovered that logistically, there were challenges. "I came to the conclusion that it would be unrealistic for my clients, especially those who were older, to be expected to navigate their way down to the cave to see me," explains Black. At this point, he had already spent $20,000 to blast the rock in a 65 million year old sandstone formation above Farmington and had lowered a Bobcat down to excavate. A decade went by without Black doing anything more and then his son Buzz returned home from his stint in the Armed Services. "He encouraged me to finish the place and then he actually lived in it for a year," adds Black.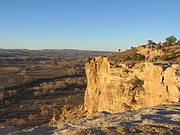 Eventually, a newspaper got a hold of the story and the calls started to come in fast and furious from people all over the country who wanted to come stay in the cave. Black, realizing its potential, decided to open the place as a B&B and the rest, as they say, is history. The first guests started arriving in June of 1997 and they haven't stopped since, with word-of-mouth generating momentum and popularity. They come from all corners of the U.S. and from around the globe, as far away as Australia. Those who make the trip do so for various reasons. "We have people who are on vacation, traveling through the Southwest," says Black. "Then there are those who are celebrating special occasions such as anniversaries and birthdays. We've even had a few wedding proposals happening right here."
The place is built into the vertical cliffs overlooking the beautiful La Plata River Valley some 270 feet below. From the cave and the cliff tops, you have a panoramic view across the Four Corners flatlands with iconic Shiprock peak (a sacred site for the Navajos) rising in the distance, nearly 35 miles to the west, along with Arizona's Carrizo Mountains and Colorado's Ute Mountains. The area is considered a hub for visiting major Native American sites including Chaco Canyon, Mesa Verde, Aztec Ruins National Monument and the Four Corners Monument.