Healthy game day snacks add to the fun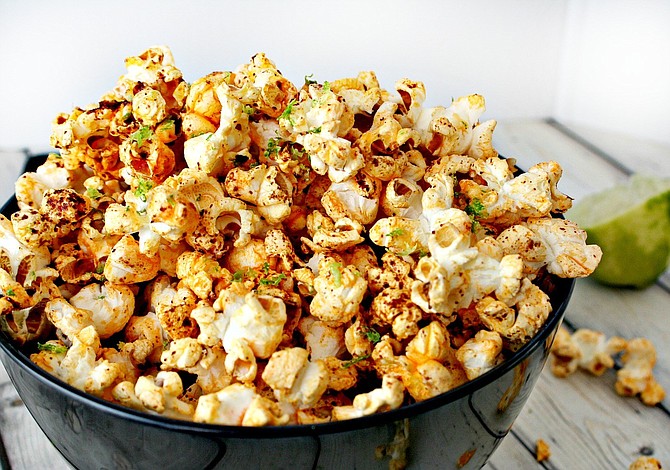 We're in the middle of football season - and that means lots of food with friends. Most game day snacks served to guests in front of the TV are loaded with sodium. That's hard on your heart and kidneys. Score a touchdown with your family and friends by serving them healthy food that tastes great.
Savory popcorn
Instead of salty chips, serve savory popcorn with a tasty spice mix.
1/4 -1/2 cup popcorn kernels
1-2 tablespoons vegetable oil
1 tablespoon sugar
2 tablespoons dried chili flakes
1 teaspoon ground cumin
1 tablespoon grated lime peel
Juice of one lime
Use the larger amounts of kernels in the recipe and pop the popcorn in a large pan on the stove. Or use the smaller quantity and put the popcorn and oil in a brown paper bag—staple it shut, and microwave on high for about 2 minutes, or until there are 5 seconds between pops. Blend sugar and spices and lime peel in food processor for 1 minute until finely powdered. Put popcorn in a large bowl and sprinkle with spice mix, squeeze lime juice over popcorn, toss and serve. Serves 4-6.
Nutritional information (per serving):
Calories: 40, Carbohydrates: 7 grams, Protein: 1 gram, Sodium: 15 milligrams
Polly's six-bean soup





½ cup large white beans
½ cup small red beans
½ cup garbanzo beans
½ cup small navy beans
½ cup pinto beans
½ cup cranberry beans
Note: You can buy packages of mixed beans for soup in most grocery stores, so no need to buy a pound bag of each type. Tailor the kind of beans depending on your preferences. Sometimes I substitute black-eyed peas or heirloom bean varieties, like Appaloosa or Christmas lima beans, available at bulk food stores.
1 large onion
2-3 cloves garlic, minced
3-4 celery stalks, chopped
¼ cup chopped fresh parsley
½ teaspoon red pepper flakes
½ teaspoon black pepper
3-4 cups low-sodium canned diced tomatoes
Put all beans in slow cooker. Add water until it reaches 2 inches beyond the top of the beans. Heat oil in large skillet, add onion, garlic, celery and parsley and cook until onions are golden. Add to slow cooker with red and black pepper. Turn cooker on low and cook about 6-8 hours. When beans are almost tender, add tomatoes. Serves about 8.
Nutritional information (per serving):
Calories: 289, Carbohydrates: 52 grams, Protein: 18 grams, Sodium: 37 milligrams
Thai coleslaw
Here's a fun salad everyone will enjoy. Low-salt peanut butter or almond butter lets the taste of the fresh veggies, ginger and garlic shine through.
Slaw:
7 cups red cabbage, shredded
½ cup grated carrots
1 bunch (about 8) green onions, sliced
2 yellow peppers, chopped or sliced
½ bunch fresh cilantro
Dressing:
6 tablespoons unseasoned rice vinegar (contains less sodium than seasoned)

6 tablespoons vegetable oil
2 tablespoons low-sodium soy sauce (or mix with half pineapple juice to cut the salt even further)
3 tablespoons brown sugar
2 tablespoons ginger, peeled and minced
½ tablespoon minced garlic
2 tablespoons low-salt peanut butter or almond butter
Combine all ingredients and mix well into slaw mixture. Refrigerate until ready to serve. Serves 10-14.
Nutritional information (per serving):
Calories: 115, Carbohydrates: 21 grams, Protein: 3 grams, Sodium: 120 milligrams


The information in this column is meant for people who want to keep their kidneys healthy and blood pressure down by following a low-sodium diet. In most cases, except for dialysis patients, a diet high in potassium is thought to help lower high blood pressure. These recipes are not intended for people on dialysis without the supervision of a registered dietitian.

[Katy G. Wilkens is a registered dietitian and department head at Northwest Kidney Centers. The 2014 recipient of National Kidney Foundation Council on Renal Nutrition's Susan Knapp Excellence in Education Award, she has a Master of Science degree in nutritional sciences from the University of Washington. See more of her recipes at www.nwkidney.org.]