Wyoming: A to Z
Sharing Stories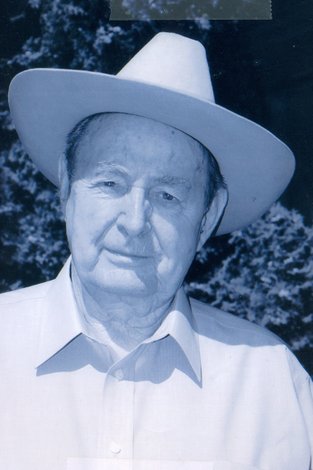 Wyoming: A to Z
Antelope lying in the Wyoming sun—
Baby fawn jumping over its mom—
Carrying ancient Indian reads—
Desert horny toads soaking up the sun—
Everyone enjoying the sun—
Fish jumping in the stream—
Getting one for breakfast…really fun—
How can one guy be so lucky to be born and raised in such a land?
Into every day comes the wonder of sky and plain. You can see for a hundred miles.
Just in case you ever travel this way, stop. Put your feet on Wyoming soil, and talk to the wind as it swirls around you.
Keep your nose working. The heavenly smells of clean pure air will revive your breathing system.
Leave nothing to chance. Go ahead and have a Wyoming romance.
Many have gone ahead of you. Some with red skins and left arrowheads for you to find.
Never say "never" when you are asked, "When are you coming again?" Just say "soon."
Over hill and trail, ride a saddle horse and enjoy your day.
Please look up to the sky. You will be forced to say, "My, oh my."
Quiet and silent and as gentle as a mother's hand is this magic land.
Roger is watching, even when he is far away. For his mind is there every day.
So don't stay away; your soul needs a Wyoming song.
Take your time, for Wyoming can be yours and mine.
Under no circumstance will you have a reason to say, "Wyoming has let me down."
Victory is yours every day you live in this Wyoming Wonderland.
With a wide open heart, this Wyoming trip will set you apart.
X and O are often used to brand sheep, horses, and cattle. Just wanted you to know.
Yesterday is never mentioned for Wyoming people live for today.
Z is famous in the winter when temps go below zero.
Welcome to Wyoming the Wonderland.
Roger Wilson is a retired teacher, rodeo rider, gold miner, oil patch roughneck, and previously a Wyoming resident. For many years, he's made Edmonds, Washington his home. Now, he may have to do an A to Z of Washington!
SHARING STORIES is a weekly column for and about the 50 plus crowd living in the Puget Sound region. Send your stories and photos to ariele@comcast.net. Tell local or personal stories; discuss concerns around aging and other issues; share solutions, good luck, and reasons to celebrate; poems are fine too. Pieces may be edited or excerpted. We reserve the right to select among pieces. Photos are always a plus and a one-sentence bio is requested (where you live, maybe age or career, retired status, etc.).
SHARING STORIES is featured on www.northwestprimetime.com, the website for Northwest Prime Time, a monthly publication for baby boomers, seniors, retirees, and those contemplating retirement. The newspaper can be found in the greater Seattle area and other Puget Sound locations. For more information, call 206-824-8600 or visit www.northwestprimetime.com. To find other SHARING STORIES articles on this website type "sharing stories" in the search function above.
Editor's Picks