Let yourself be wooed by India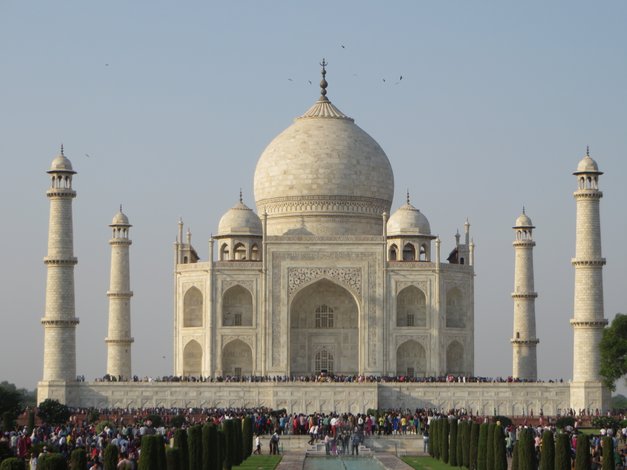 Falling in love with India is a gradual affair. First it flirts with you to get your attention. Then it begins to entice you with its charms. India, though, wants more from you than just a platonic relationship. It's looking for a deeper commitment – one that seeks to bind itself to your heart and soul. Slowly and steadily you fall under its enigmatic spell, and before you know it, there's a new love in your life.
Much of India's appeal is due to its deep roots. With a civilization that can be traced back thousands of years, it has bragging rights as one of the world's oldest cultures. The country is steeped in history and ancient sites abound, from opulent palaces and stalwart forts to dazzling temples and grand mosques. You'll be mesmerized by the architectural wonders that seem to appear around every corner. In Delhi, alone, there are 1300 monuments. Among them is Jama Masjid, the largest mosque in the country and a magnificent example of Mughal architecture with its red sandstone and austere, white marble. An active place of worship since 1650 A.D., it has a courtyard that can hold 25,000 people at one time. Then there's the Red Fort, a stunning example of a blend of Persian, Indian and European architecture. Completed a decade before the mosque, it was the seat of the Mughal Empire for more than 250 years and one of three UNESCO World Heritage Sites in the city.
In Agra, it's all about the incomparable Taj Mahal, one of the Seven Wonders of the World and the greatest monument dedicated to love. This spectacular white marble mausoleum was the creation of the Emperor Shah Jahan as a memorial to his beloved queen, Mumtaz Mahal. It took twenty-two years to complete, involving a labor force of 22,000 skilled craftsmen. Seeing this masterpiece up close and personal is one of the many pinch-me moments that abound in this magical country. It's particularly stirring at sunrise when the colors of the sky are reflected on the building's shimmering walls.
One of the more unusual UNESCO World Heritage Sites is Khajuraho. The temples, which were constructed about a thousand years ago, are extraordinary examples of Hindu religious art. Lavish stone sculptures with erotic scenes adorn the facades. At first, you don't notice the themes presented, but on closer examination, you are surprised, then taken aback at the explicitness of the details. The sophisticated design and building techniques used in the creation of these temples and the artistry of the sculptures are difficult to describe in words. Only in person, can you grasp their impact.
Jaipur, known as the Pink City, is home to the famed Amber Fort and Palace that is typically reached via elephant up a winding road to the ramparts. The town is also known for its City Palace, an immense complex containing a number of museums that offer an impressive collection of costumes, armory and miniature paintings. My personal favorite in Jaipur, however, is the Hawa Mahal or Palace of the Wind. This intriguing, eye-catching façade was built in 1799 so that the ladies of the court could use its unique windows and observe the bustling bazaar without being visible to the people on the streets.