Resilience - choosing to get back on the horse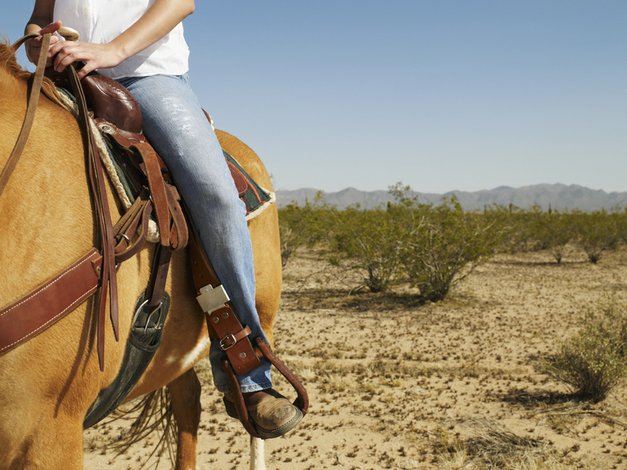 "Courage is being scared to death… and saddling up anyway." John Wayne's on and off-screen persona has wide appeal. His pick-yourself-up, shake-off-the-dust attitude made him a super star.
Many of us have something in common with Wayne's movie characters; we have had to bounce back from challenges, rebound from adversity, dig deep within ourselves to find peace and normalcy. His resilience resonates with some part us.
"Resilience is that ineffable quality that allows some people to be knocked down by life and come back stronger than ever," according to Psychology Today. Wayne made it look easy.
Most of us, however, don't possess Wayne's swagger. And unlike the movies, life is not scripted, nor are happy endings guaranteed. Yet, trust in something outside our own narrow perspective comes to the rescue in our despair.
"For I know the thoughts that I think toward you, saith the Lord, thoughts of peace, and not of evil, to give you an expected end," is how my Bible puts it. Relieving the uncertainties in life and providing the foundation upon which restoration can occur has been a hallmark of faith. And it starts with choosing the best way to think about things. It's all about thoughts, motives, and their subsequent actions.
Case in point, take Paul in the New Testament. At one point in his life he chose to align himself with those who were harming, imprisoning, and even killing his fellow citizens. In the process he loses his eyesight. Yet, at his low point, it became evident to him that serving this hatred and acting upon it wasn't acceptable. Relinquishing those feelings, Paul's eyesight was restored and he became a beloved leader and even prolific healer.
If there is one thing my spiritual/religious life has taught me, it is that I can take charge of how I respond to the people and events of my experience. Emotions like helplessness, disgust, and even hatred are not inevitable or uncontrollable. And, they don't contribute to resiliency.
Once I found myself sprawled across a downtown sidewalk after being assaulted by a gang of troublemakers. They had come up from behind me and boxed my ears, causing me to drop to the ground. At that very moment, in the midst of confusion and pain, I needed to decide whether to succumb to a sense of victimization or take control of my thoughts and feelings.
Self-pity, fear, and anger were overwhelming at that moment. It seemed reasonable to react with feelings of resentment, even outrage toward those who had perpetuated this unprovoked attack.
Then, another possible reaction penetrated these overwhelming feelings. "You must control evil thoughts in the first instance, or they will control you in the second," writes Mary Baker Eddy who had a great deal of experience in the area of resilience.
After picking myself up, I prayed a prayer of gratitude and forgiveness. I was grateful for the day and for the ability to get up and shake off the feelings of insecurity and revenge. I felt a genuine forgiveness for both myself and those who had hurt me. I had to cut myself some slack for being in the wrong place at the wrong time. More importantly, I didn't want to validate for myself the hatred that had been expressed by the attackers.
Forgiving these individuals was in no way excusing their behavior, but helped me to challenge and overcome the impulse to hate back or live a life in fear. I recovered quickly from my injuries and experienced no lasting effects. That's what resilience is all about.
True grit is choosing to express love in the face of hatred, courage when outnumbered by fearful odds and gratitude in a time of doubt and discouragement. "Choose you this day whom ye will serve." There is a choice and electing God-given goodness gets us back on the right track, stronger than ever.
---
Steve Salt is a syndicated health blogger and a Christian Science teacher and practitioner. This post was originally published on Fifty is the New Fifty. Follow him on twitter @saltseasoned.