Ruby red tomatoes: the optimism of summer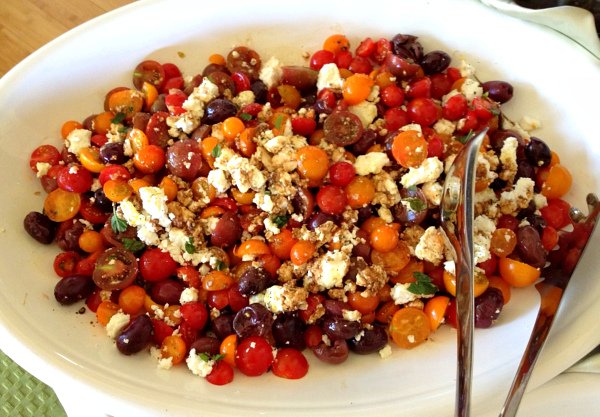 To grow tomatoes in Seattle, you have to be an optimist. Some years we get great tomatoes; other years I am digging through my cookbooks for every green tomato recipe I can find. I always hedge my bets by growing cherry tomatoes, and the first of mine are just turning color now. Even if my heirloom varieties never reach that wonderful shade of red only a ripe tomato can get, I have lots of recipes to celebrate the amazing flavor of a vine-ripened cherry tomato.
Tomatoes are a great source of vitamin C and that all-important potassium we need to keep blood pressure under control. These tomato recipes are low in sodium, so they are doubly healthy. The flavor will remind you why we optimistically grow tomatoes in the Pacific Northwest!
Fresh tomato salad
2 pounds mixed types of cherry tomatoes, like yellow pear, Sweet 100, chocolate, and/or Sungold orange
¼ cup fresh basil, thinly sliced
½ purple onion, thinly sliced
1 small head jicama, peeled and diced
1/3 cup to ½ cup olive oil
2 to 4 tablespoons fruit or herb vinegar
½ to 1 cup goat cheese
Cut cherry tomatoes in half. Cut basil into thin strips. Dice onion and jicama fine, then toss with olive oil and vinegar. Taste and add more oil or vinegar, depending on how sweet or tart the tomatoes are. Scatter dime-size pieces of goat cheese across the top, and serve.
Nutritional information per 1 cup serving:

Calories: 350, Protein: 6 g, Fat: 33 g, Sodium: 111 mg
Fresh tomato sauce
2 cloves fresh garlic, sautéed
2 tablespoons fresh oregano
¼ cup fresh basil
2 to 3 pounds fresh cherry tomatoes
¼ cup olive oil
Water for pasta
Pasta: shells, bow tie or fusilli pasta
Sauté garlic, then add oregano just at the last minute to wilt it. Cut basil in thin strips. Cut tomatoes in half. Put all in bowl, add olive oil and toss several times. Serve at room temperature over cooked hot pasta. Sprinkle with fresh grated parmesan or Romano cheese.
Nutritional information (sauce only per ½ cup serving):
Calories: 147, Protein: 1 g, Fat: 13 g, Sodium: 13 mg
Fresh tomato salsa
2 pounds cherry tomatoes, quartered
2 cloves garlic, crushed
1 cup onion, chopped
1 or 2 jalapeno peppers, seeded and chopped
1 long green chili, seeded and chopped
¾ cup vinegar or bottled lemon juice
1 teaspoon sugar
2 tablespoons fresh oregano leaves
1 cup fresh cilantro leaves
½ teaspoon ground cumin
Combine all ingredients in a large saucepan. Bring to boil, then reduce heat and simmer. Stir frequently until thick, about an hour. Serve with purchased low-salt corn tortilla chips, or pan-fry your own homemade chips from fresh corn tortillas.
Nutritional information (per ¼ cup):
Calories: 27, Carbohydrates: 6 g, Protein: 1 g, Fat: 0 g, Sodium: 7 mg
The information in this column is meant for people who want to keep their kidneys healthy and blood pressure down by following a low-sodium diet. In most cases, except for dialysis patients, a diet high in potassium is thought to help lower high blood pressure. These recipes are not intended for people on dialysis without the supervision of a registered dietitian.

[Katy G. Wilkens is a registered dietitian and department head at Northwest Kidney Centers. The 2013 recipient of National Kidney Foundation Council on Renal Nutrition's Susan Knapp Excellence in Education Award, she has a Master of Science degree in nutritional sciences from the University of Washington. See more of her recipes at www.nwkidney.org.]