Eldergrow – A Therapeutic Connection to Nature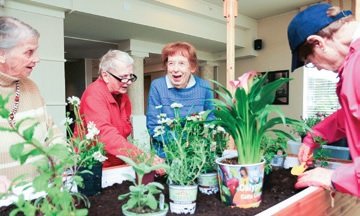 Orla Concannon, founder of Eldergrow, is fresh from winning the 17th Annual Harriet Stephenson Business Competition at Seattle University. After a series of 'shark tank' pitches and a competitive tradeshow, Eldergrow won the audience's heart by taking first place with their vote and second place with the judges.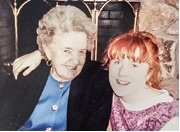 Orla's inspiration for Eldergrow started with her Irish grandmother, 'Nana.' "I am fortunate to have such an influential role model," says Orla. "Nana was a successful businesswoman on both sides of the Atlantic and always encouraged my entrepreneurial spirit. And Nana had this uncanny green thumb!" adds Orla, who spoke of her Nana with fondness. "Her last few years were spent in a nursing home with limited activities and she missed her garden terribly. I've heard this issue so many times over the years, when seniors leave their home and move into residential communities."
The Eldergrow garden offers an innovative, therapeutic connection to nature. The raised garden is mobile so it can be moved around a community and has an indoor light for year-round growth. "We want to bring the outdoors in, for everyone to easily enjoy," says Orla.
Research highlights the wide-ranging benefits of horticultural therapy: it reduces risk factors for dementia by 36%; it elevates mood, improves sleep, reduces falls and agitation. And gardening helps to keep hands nimble and strong. The United Nations made 2015 the International Year of the Soil, noting that soil microbes act as natural antidepressants.
Orla partnered with the WSU Extension Master Gardener Program, a program founded in King and Pierce Counties and now active in every state in the country as well as several Canadian provinces. Master Gardeners are volunteer community educators providing resources for home gardeners. Unlike much of the gardening information available to the public, Master Gardeners offer research-based information that focuses on environmentally friendly gardening practices.
The Master Gardener Program has helped Eldergrow to develop an enriching activities curriculum based around the garden. Orla elaborates, "Eldergrow provides gardening with a purpose, where residents get to engage in meaningful ways: socially, creatively, physically, artistically, cognitively, culturally and more."
Eldergrow launched on Earth Day, April 22, at Aegis of Edmonds. Orla asked Debra Moore, the community's general manager, to host the special launch because of the tranquil garden terraces she created at her community. Lisa Haynes, Enrichment Director, spoke highly of Eldergrow's garden, "The mobile garden is not only a great way to bring the outdoors inside, it is accessible to all. It was easy for all of our residents to see, touch and enjoy. They felt useful and fulfilled working in the dirt and sharing stories!" Lisa also mentioned how the Eldergrow Activities Plan saved her some planning time in her busy schedule.
Orla Concannon graduated in June from Seattle University with a MBA in Healthcare Leadership. She likens her excitement for Eldergrow to the same excitement that people have when they garden. "Gardening gives elders something to look forward to, like waiting for that bud to blossom. The positive feedback on Eldergrow has been tremendous and I can't wait to see it grow!"
For more information, please call Orla at 206-283-6433 or visit www.eldergrow.org.