My Sewing Room
Sharing Stories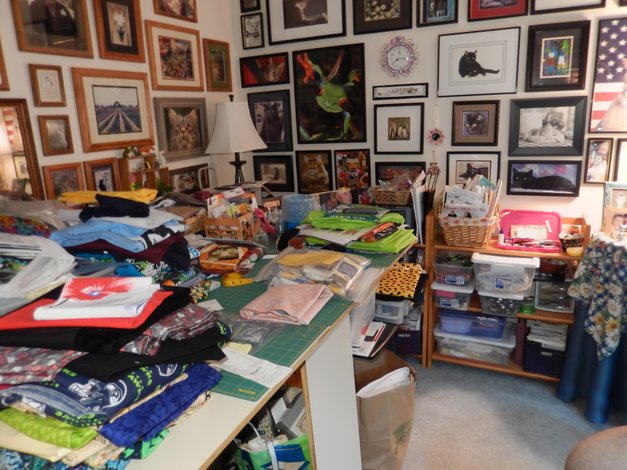 MY SEWING ROOM
My sewing room is small (10.5 feet by 9.5 feet) and cluttered with fabric, patterns, thread, and everything "sewing." I have three machines in some form of service available and taking up residence on my wooden cabinet. I have a cutting table I haven't seen the top of in three years, and I have books galore lined up on wooden bookshelves on two walls. Three rattan dressers line the third wall and are stacked with projects I hope to complete yet in this lifetime. The fourth wall is devoted to closet space with mirrored doors closing off the chaos stacked on shelves inside.
I gave away my extra bed long ago to free up space and thwart overnighters. I love my sewing room. I think the room's best feature is a long window (42 by 78 inch) with a deep well where my cat, Jilly-Bean, can sit and watch the birds, except that she won't.
The walls are papered with cat pictures I have collected over the last 30 years. I've hung more than 60, all framed and, I think, tastefully displayed. Scattered among the felines are the occasional family photos, as well as a picture of a debonair dinosaur sporting a bow tie.
It gives me great pleasure to work in this room. I listen to King FM as I sew and when it becomes too monotonous, I put a "Credence Clearwater Revival" CD in my music player. My sewing experience doesn't get any better than this.
Anne Dillon lives in Kent, enjoys her cat, and loves to sew. This piece was done in response to an exercise in Ariele Huff's Write about Your Life online class.
SHARING STORIES is a weekly column for and about the 50 plus crowd living in the Puget Sound region. Send your stories and photos to ariele@comcast.net. Tell local or personal stories; discuss concerns around aging and other issues; share solutions, good luck, and reasons to celebrate; poems are fine too. Pieces may be edited or excerpted. We reserve the right to select among pieces. Photos are always a plus and a one-sentence bio is requested (where you live, maybe age or career, retired status, etc.).
SHARING STORIES is featured on www.northwestprimetime.com, the website for Northwest Prime Time, a monthly publication for baby boomers, seniors, retirees, and those contemplating retirement. The newspaper can be found in the greater Seattle area and other Puget Sound locations. For more information, call 206-824-8600 or visit www.northwestprimetime.com. To find other SHARING STORIES articles on this website type "sharing stories" in the search function above.
Editor's Picks