Keep Your Kidneys Healthy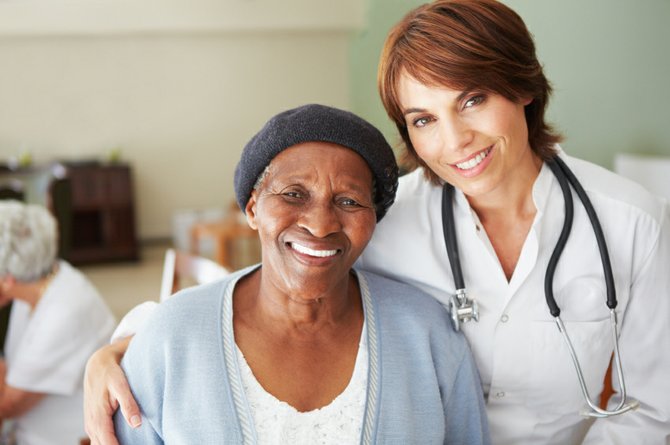 The urine test checks for a protein called albumin, which isn't routinely detected when your kidneys are healthy. The blood test checks your GFR—glomerular filtration rate. GFR is an estimate of your kidney's filtering ability. A GFR below 60 is a sign of chronic kidney disease. A GFR below 15 is described as kidney failure.
"I tell my patients they should know their numbers," says NIH kidney expert Dr. Jeffrey B. Kopp. "We usually cannot cure chronic kidney disease, but if we catch it early, we can slow down its progression."
Without treatment, kidney disease often gets worse. If your GFR drops below 15, you may feel tired and weak, with nausea, vomiting and itching. By that point, you may need a kidney transplant or dialysis. It's a good idea to talk with your doctor about the possibility of these therapies long before they're needed. It takes time to understand your options, and it's easier to figure things out when you're feeling healthy.
"In general, the preferred therapy for kidney failure is to have a kidney transplant, but not everyone can have a transplant," says Kopp. Some obstacles include long waiting lists for healthy kidneys and finding a well-matched donor.
Dialysis is a treatment that filters wastes and water from the blood, allowing patients with kidney failure to feel better and continue with everyday activities. NIH kidney specialist Dr. Paul Kimmel leads an NIH program to improve the lives of patients on dialysis. "Although dialysis is a life-saving therapy, it can be challenging for patients and families," Kimmel says. "We're encouraging researchers to explore innovative ways to improve the quality of life and long-term outcome for these patients."
You can take many steps to avoid or delay reaching the point of kidney failure. The best thing you can do is control your blood pressure. A healthy lifestyle, including physical activity and a heart-healthy diet, can help to normalize blood pressure and also slow kidney disease.
"Most Americans eat more sodium and protein than the body needs. It's your kidneys' job to filter and get rid of the leftovers 24 hours a day, 7 days a week," says registered dietitian Theresa Kuracina, who advises NIH on kidney health and nutrition. Healthy kidneys can generally handle the workload. "But if you have kidney damage, too much sodium and protein can have a negative effect," Kuracina says. "We generally recommend eating less sodium and more fruits, vegetables and whole grains. To reduce fats, choose lean meats and low-fat or fat-free dairy products."
If you have kidney disease, your health care provider may recommend additional changes to your diet. And if lifestyle changes aren't enough to slow down kidney damage, your doctor may prescribe medications to reduce blood pressure, control blood glucose and lower your cholesterol.
Don't wait to take the first step to keep your kidneys healthy. Talk to your health care provider about your kidneys, and ask if you should be tested for kidney disease.