Tournament Spotlights Popularity of Sport Abroad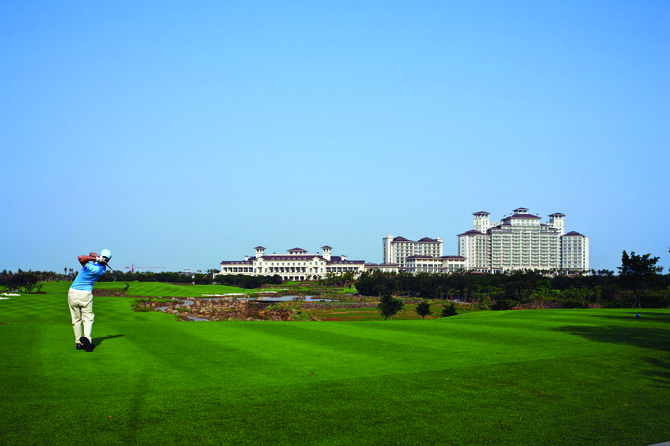 (Family Features) Hollywood's A-list will be joining the world's top golfers for a week of golf, glamour and gala events at the third Mission Hills World Celebrity Pro-Am Oct. 24-26, 2014. The event represents a match of sports and entertainment legends, congregating at Mission Hills China, the world's largest golf resort. Held on the tropical island of Hainan, which has been called China's Hawaii, the players will enjoy world-class amenities, including the world's largest spa and mineral springs.
Among the stars competing for golf glory will be Morgan Freeman, Jessica Alba, Chris Evans, Nicole Kidman and Kenny G. Basketball legend Yao Ming will be returning for the second year in a row, bringing national and global attention to the event, further fueling the rapidly growing popularity of golf in China.
Pros and Celebrities Tee Off
Top golfers at the tournament will include 2013 U.S. Open champion Justin Rose, Ian Poulter, multiple Major winners Gary Player and Greg Norman, ex-Masters champion Ian Woosnam, former Open Championship winner Darren Clarke and Europe's 2014 Ryder Cup Captain, Paul McGinley.
Celebrities will be partnering with golf pros for the tournament, which will take place over the weekend. The teams will face off over two rounds of four-ball, in which the best shot advances the team for every stroke. While assisting their celebrity partners, the professional golfers will compete for an individual prize of a million dollars.
Participants in the tournament are, understandably, looking forward to the event. "I'm incredibly excited to be taking part in the Mission Hills World Celebrity Pro-Am in China," said Jessica Alba. "I'm really looking forward to enjoying the incredible facilities at Mission Hills."
Golf tips from Asia's leading tutor
Iain Roberts, master instructor at Mission Hills Golf Academies in China, has a simple message for weekend players: "Don't listen to your buddies."
Roberts refers to the following tips as the Magnificent Seven. Each one is a piece of advice commonly given by well-intentioned golfers to their playing partners, opponents or complete strangers. Each one can be harmful to your game. Here they are in detail.
"Keep your head down." What they mean is, keep your eyes on the ball. Annika Sorenstam, perhaps the greatest female golfer ever, would turn her head towards the target at impact. It didn't hurt her career, did it?

"Don't use your hands." This is just asking for trouble. Your arms and hands move at a faster speed than any other body part throughout the swing, so keep your hands active to gain as much speed as possible.

"Use the big muscles in the body to get power." As mentioned in point No.2, to create club head speed you need the hands and arms to be effective. Using the big muscles is a must but you simply want to rotate your body and have weight transfer as well as staying in posture throughout the swing. To create maximum club head speed at impact you need the correct sequence from the start of the downswing to impact. This will be different depending on your physical ability.

"You need to make a big turn." This is questionable. The ideal upper body rotation in the backswing is 90 degrees and the lower body can turn 45 degrees, but your physical limitation and ability to remain efficient with your swing is more important.

"Slow down, you're swinging too fast." This is a strange statement if you want to hit the ball further. What this means is, start your swing in control and ensure you have the correct sequences. Your swing will become more smooth and will therefore look slower, but the club head speed has increased.

"Relax, you're holding the club too tight." Relaxing your body and grip when you are about to swing a club at 100 mph is not ideal. Having a firm hold on the club helps activate certain muscles in the body and ensures the club face does not open or close or simply come out of your hands at impact.

"Keep your left arm straight." In the backswing, you want the left arm comfortably straight and connected to the body while the right arm folds. Through impact the right arm is straight and has extension, so your left arm should fold and rotate on the way through the ball for better strikes and more consistency.