Doctor Dad
Sharing Stories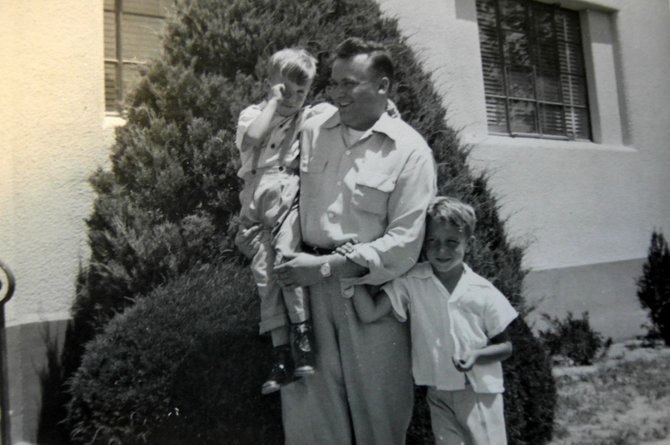 Jerome Keefe, MD was a country doctor who, after growing up in Minnesota, dedicated over fifty years (1948-2000) of his life to practicing rural medicine on the High Plains of eastern Colorado.
My dad excelled in school and sports. He mentored his two younger brothers, helping them get good grades in math and science. His younger brother Gerald once said, "He had a mind like a steel trap!" Gerald also shared that in every baseball game he watched, he never saw Dad strike out. Once, Dad saved Gerald from drowning. While playing in a local lake, Gerald stepped into a hole and began to flounder. Dad immediately stripped to his boxers, swam out and returned him safely to shore. Interestingly, I never saw my father swim.
When Dad made it into college, money was very tight. He walked two miles to school in order to save ten cents bus fare. After Pearl Harbor, he was drafted. Through an Act of Congress that provided money for officer training and education, he passed a test that got him into medical school. On the day before he started, his sergeant ordered him to march several recruits to the induction center. He gave Dad a rifle to be sure they got there. When Dad returned, he gave the rifle back, took one step away, then pulled three bullets from his pocket saying, "Here, Sarge, you might need these."

During his storied practice in Eastern Colorado, he was sensitive, compassionate, and clever. Once, he was awakened at midnight by a call from the local barkeeper; off Dad went to the bar to settle an argument. Later when asked why, he said, "I'd rather shut 'em up at midnight than sew 'em up at three in the morning!" He was compassionate even to the town drunks. When they ended up at the hospital, Dad got out of bed for them just as he did for anyone else. He talked gently to them and gave them small shots of whisky so they wouldn't go into delirium tremens, which never happened on his watch. People considered Dad's presence and bedside manner healing in and of itself.
Daniel Keefe, first-born son of Jerome L. Keefe, is a semi-retired aquatic biologist living in Seattle, WA. The book about his dad, Beloved Physician of the Plains, Jerome L Keefe, MD is available on Amazon: Books—Daniel Keefe.
SHARING STORIES is a weekly column for and about the 50 plus crowd living in the Puget Sound region. Send your stories and photos to ariele@comcast.net. Tell local or personal stories; discuss concerns around aging and other issues; share solutions, good luck, and reasons to celebrate; poems are fine too. Pieces may be edited or excerpted. We reserve the right to select among pieces. Photos are always a plus and a one-sentence bio is requested (where you live, maybe age or career, retired status, etc.).
SHARING STORIES is featured on www.northwestprimetime.com, the website for Northwest Prime Time, a monthly publication for baby boomers, seniors, retirees, and those contemplating retirement. The newspaper can be found in the greater Seattle area and other Puget Sound locations. For more information, call 206-824-8600 or visit www.northwestprimetime.com. To find other SHARING STORIES articles on this website, type in "sharing stories" in the search function above.