13th Annual Best Places to Retire in Washington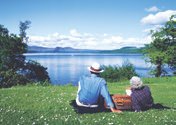 Each year Northwest Prime Time reviews national surveys of best places to retire and reports on the top "Best Places." So, what's hot in Northwest retirement destinations?
As always, our state is well-represented in the national polls. This year's Washington 'Best Places' are listed on below. But first, what goes into selecting the best places to retire?
How to Choose a Retirement Destination
Each organization uses its own criteria to select best places to retire. Many consider living and housing costs, how tax structures impact retirees, weather, doctor and hospital availability, crime rates, outdoor recreation such as walking and biking trails, cultural richness, as well as educational, volunteer and employment opportunities.
Organizations like AARP and the National Council on Aging advise looking at how your home is designed and if your community can support you as you age (does it have a senior center, transportation, health and other programs for seniors?) rather than prioritizing climate, cultural and recreational opportunities. And, they say, take a comprehensive look at what makes your life enjoyable and satisfying—factors that rankings can't quantify.
A study by Boston College's Center for Retirement Research shows the main reasons retirees move are (in order): family, financial, better location, leisure/climate and health. The study shows that the vast majority of retirees tend to stay within about 20 miles of their current home unless they are moving to be closer to children and grandchildren.
But a national survey by Consumer Federation reports that up to a third of baby boomers would consider moving across state lines for lower taxes and housing costs, a nice climate and quality health care. At 78 million, the baby boom generation will have a significant impact on the communities they move to—a community need only attract three-tenths of one percent of relocating boomers to add $1 billion per year in new income to its economy, according to the survey.
Northwest Prime Time hopes you enjoy the best places lists to follow. Wherever your retirement takes you, we wish you health and happiness.
Best Places to Retire Annual 'Round-Up'
What tops the 2014 "Best Places" lists in retirement destinations? The Sunbelt states still rate high, but in recent years some surprising places are popping up (like North Dakota, Nebraska and Wyoming). Not surprising is that Washington State makes the grade. According to the annual arbiters of best places to retire, here's how the scores add up:
• Forbes added new factors in their research for "Best Places to Retire" this year and sifted through more than 400 cities. Bellingham made their top 25— Bellingham and Boise, Idaho were the only Northwest locations to make the list. For the full list, visit forbes.com.
• TopRetirements.com is an online tool for researching retirement destinations; its annual list is a popularity contest that reflects towns that receive the most online visitors. As usual, Florida dominates the list with the most towns in the top 100, though Asheville, North Carolina was #1 on the list. Washington State came in a strong sixth in the nation. According to TopRetirements, Washington's most popular retirement places are Seattle, Spokane, Sequim, Port Townsend, Bellingham, and the San Juan Islands. Some past favorites like Walla Walla slipped off the list this year. But speaking of the San Juans, they placed in the top ten of best islands in the country from tripadvisor.com for second year in row.