Chris' Corner - Lessons in Longevity
Chris Serold | Feb 10, 2014, 11:48 a.m.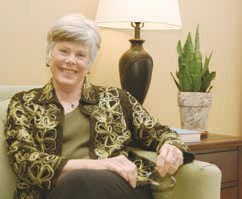 Chris' Corner is sponsored by Chateau Bothell Landing
"Connecting with and helping others is more important than obsessing over one's diet, rigorous exercise program, or work load," Friedman insists. "Do that and the other elements will fall into place."
--The Longevity Project by Dr. Howard S. Friedman and Dr. Leslie Martin
I recently went back to work as an activity director. I wasn't looking for work and I listened in utter disbelief when I was offered the job, largely because of my age, but also because I had never worked in activities before. And at 70 years old, I'm supposed to be retired. All my life—and no doubt all of yours—we've been told that the joy of retirement is no more work. I think of an activity director as young, energetic, creative, and well-connected. I may still harbor a few reserves of energy, I like to think of myself as creative, and perhaps most important of all, I am healthy; but young I am not. I asked for, and was granted, a little time to process the thought of once again starting my day with an alarm clock, and run the prospect of employment by my family and friends. They all thought I had lost my mind. Everybody had an opinion, but I was the one impacted by the decision and I wanted to make sure it was right. I walk just about every day and find the fresh air and exercise help to clear out the cobwebs. I walked and thought and every time I thought about being an activity director, I got a smile on my face. I didn't have enough to do in retirement. I felt like I could only clean my house, go on vacation, and have lunch with friends so much. I needed more. I needed a reason to get up in the morning. I wanted to be an activity director!
And now that I'm 70, I'm highly aware of the clamor of voices and plethora of reading material advising me how to age well, live longer, or increase longevity. Articles can be found online, in newspapers, in magazines, health pamphlets, and in insurance brochures. There is data gathered in research projects that tell us how long men and women live that are married, versus those that have never been married, versus those that have married and divorced. There is information comparing the present world of medicine with that of generations before us. And more often than not, I get snagged by a compelling title that sounds like I am about to learn the magic formula for how I should conduct my day; what I should eat, how much and what kind of exercise I should do. Oh, and don't forget: socialization! And yet with all there is to read about longevity, it still eludes us. It is a perpetual mystery as to exactly what will keep us alive and for how long. I did find various studies that provide some interesting insight, among them, The Longevity Project.