Local Interview, Clarence Roedell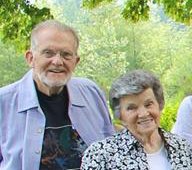 Reed Strong, Northwest Prime Time's summer intern, is a senior in Western Washington University's journalism program. He speaks to Northwest area seniors and baby boomers for the series LIFE LESSONS. Each is asked the same four questions: thoughts on growing older; advice for the younger generation; what are they most nostalgic about; and how the world has changed for the better.
Clarence Roedell Jr. lives in Des Moines, Wash. He is 90 years old, was born in 1924 in Iowa. After his grandmother moved up to the "garden of Eden" that was Washington State, he followed with his family. He worked at Boeing for over 25 years and has been retired for 25 years. He has seven children, ten grandchildren, and six great grandkids.
What have you found are the best aspects of growing older?
"Let's see. You don't have to worry about people. You're old, so you can get away with stuff. You get senior discounts!"
What's the best advice you could give to a younger person?
"Just live your life and be friendly. Watch out for other people, and take care of them if they need help. Take one day at a time, and make sure that you're doing what you want to do, not something that you have to do."
What thing from your childhood are you nostalgic about?
"As a kid, I remember playing a lot outdoors. As I grew older, I liked doing sports."
What changes in the world do you think are for the better?
"I would say all the electronics. You've got giant color TVs, telephones, lap computers, that kind of stuff."