A Good Teacher
Sharing Stories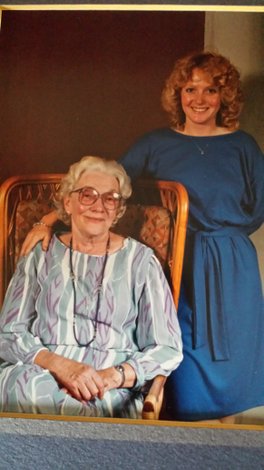 Mrs. Brewin or "Brew," as I called her, was my study room teacher in high school.
Brew had white puffy hair, wore wild colorful bold print clothing, smoked like a steam locomotive going over a mountain pass—during school hours—and could talk a six-foot, 300-pound football player into writing poetry because she believed in him and made him believe in himself. Brew could look through you with those steely blue eyes as she listened with intense interest to problems of boyfriends, girlfriends, and parents or any other teenage adolescent woes. After a long drag on her cigarette, Brew could see through the blue haze of smoke and B.S., then tell you to get over it and grow up. Everybody loved Brew.
Brew and I had a friendship that lasted long after she retired and I graduated from high school. I visited her and the many cats, who had found her, but as she said, they were not really hers. She just fed them and let them come and go as they pleased. Brew's house was always a cluttered mess, and in the center of it was her "command station" as she called it: a coffee table with ash tray and smokes, TV remote control and TV Guide, a year's worth of mail and "very important" papers, phone book, phone, and one or two cats sitting in the middle of it all.
We shared stories. Brew made me laugh and left me too soon.
Mary Boley is a retired Electrical Inspector who has lived in Washington all her life. She attended Rainier Beach High School and worked for the City of Seattle for 33 1/2 years.
SHARING STORIES is a weekly column for and about the 50 plus crowd living in the Puget Sound region. Send your stories and photos to ariele@comcast.net. Tell local or personal stories; discuss concerns around aging and other issues; share solutions, good luck, and reasons to celebrate; poems are fine too. Pieces may be edited or excerpted. We reserve the right to select among pieces. Photos are always a plus and a one-sentence bio is requested (where you live, maybe age or career, retired status, etc.).
SHARING STORIES is featured on www.northwestprimetime.com, the website for Northwest Prime Time, a monthly publication for baby boomers, seniors, retirees, and those contemplating retirement. The newspaper can be found in the greater Seattle area and other Puget Sound locations. For more information, call 206-824-8600 or visit www.northwestprimetime.com. To find other SHARING STORIES articles on this website, type in "sharing stories" in the search function above.