A Smart Guide to Eating Gluten-Free the Healthy Way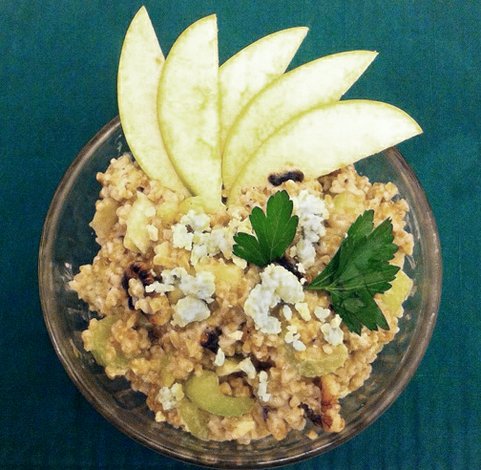 Choose the actual grains whenever possible, rather than refined products: A bowl of warm quinoa makes a great breakfast. Sprinkle nuts and seeds like almonds or ground flax on top of cereal to add extra fiber, and ensure that your diet includes ample fruit, vegetables and beans.
For a fiber-rich gluten-free dish, try this oat pilaf:
Waldorf Oat Pilaf
This savory recipe makes a tasty dish for any time of day. It contains blue cheese, which is actually free of gluten even though it is cultivated from a bread mold.
1 cup gluten-free steel cut oats (such as Bob's Red Mill)
1½ cups water
½ teaspoon salt
½ cup walnuts
1 small green apple, diced
2 stalks celery, diced
1/3 cup crumbled blue cheese
¼ cup dried cranberries
2 tablespoons olive oil
2 tablespoons red wine vinegar
Salt and pepper, to taste
Dry-toast oats in a saucepan on high heat, add water and salt, bring to a boil, and then reduce heat and simmer, covered, for 20 minutes. Scoop oats into a large bowl and cool for 10-15 minutes. Meanwhile, toast walnuts in a hot skillet until fragrant, about 5-7 minutes. Toss walnuts with oats, apple, celery, blue cheese, cranberries, oil and vinegar. Add additional salt and pepper if needed.

Serves: 4
Total time: 40 minutes
Copyright 2014, A. Bermann, Original recipe
Reviewed by Alexandra Kazaks, PhD, RD and Cynthia Lair. Non-profit, accredited Bastyr University (bastyr.edu) offers multiple degrees in the natural health sciences, and clinical training at Bastyr Center for Natural Health (bastyrcenter.org), the region's largest natural medicine clinic.