Bellevue couple lends a hand to build more than 80 homes in King County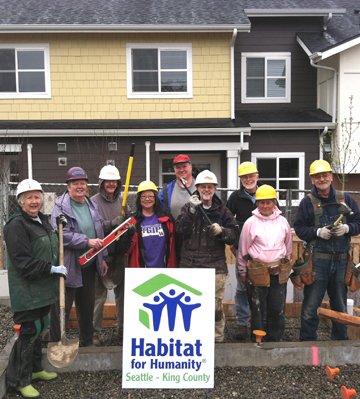 The old adage 'it's hard to keep a good woman down' might have written with Galen Mickelsen in mind. Sitting still is not something she does well. In fact, in her twenties she started keeping track the miles she ran. Now in her seventies she's an avid walker, getting out at least five days a week, rain or shine. Since starting to keep track she has logged more than 40,000 miles.
Her boundless energy and commitment to sticking with things also extends to her community and volunteer work. Galen has been a Girl Scout for more than 65 years. Currently she volunteers one day a week for Little Bit Therapeutic Riding Center, and one day a week Habitat for Humanity Seattle-King County along with her husband of 52 years, Reid. They have been volunteers with Habitat SKC for 12 years now and together they have lent their hands to help build more than 80 houses in King County.
Making a difference, locally and internationally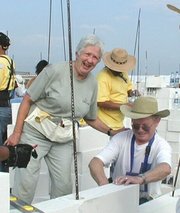 Galen enjoys working with her hands and seeing tangible progress on projects. That's one of the reasons she and Reid enjoy working so much on Habitat houses. She says, "When you think you had a part, even if it was a small part, in making that many people have homes, that makes you feel pretty good."Galen and Reid have also traveled to Mexico twice – once as part of the Jimmy Carter Work Project in 2004 when 4,000 Mexican and international volunteers, including President Carter and his wife, Rosalynn, built 150 Habitat for Humanity homes in one week in the cities of Puebla and Veracruz. Galen goes on to say "By helping Habitat we are helping people not only in this city, but this state, this country and this world."
Building homes and friendships
Volunteers are the heart and backbone of Habitat. Last year 2,722 volunteers contributed 57,075 hours to Habitat SKC, and seniors make up a huge part of that volunteer force. The Habitat volunteer experience brings people together in a unique way to create meaningful experiences and build lasting relationships. Galen and Reid are a prime example of that. They are part of what they call the "Thursday Bunch," a group of approximately 20 volunteers, many of whom have been volunteering together every Thursday just as long as Galen and Reid have. The sense of community that has been created is so strong they celebrate Thanksgiving together every year on whatever construction site they are working on. The Thursday prior to Thanksgiving they sit down to a complete Thanksgiving meal together, cooking the turkey on a Webber bar-b-cue brought in for the occasion, and finishing up with pies. Galen estimates that this has been going on for close to ten years. In the spring, they mark the start of baseball season with a hot dog lunch.Enduring friendships and bonds have been formed and some of the groupsee each other outside of their Habitat Thursdays.
Learning new skills
When asked if they have gained any skills from their volunteer experience with Habitat, Galen gushes that Reid already has almost every skill imaginable, stating there's nothing he can't do. She explains that she has benefited by learning a great deal about handy work, from hammering nails, to caulking and painting.
She also says, "Volunteering is ten times better than working! It's better because nobody is forcing you to do it; it's because you want to do it and you're helping somebody else. It doesn't get better than that."
About Habitat for Humanity Seattle-King County
Over the past 25 years, Habitat SKC has built, repaired or renovated 320 homes in Bellevue, Carnation, Federal Way, Issaquah, Kent, Kirkland, Seattle, Snoqualmie, Redmond, Renton, Sammamish, and West Seattle. Right now, Habitat SKC is building new multi-family townhomes in Renton, and in Rainier Vista, Seattle.
Habitat SKC builds houses affordably, using primarily volunteer labor, and sells them at cost, with no profit and no interest to working families in Seattle and King County. Habitat SKC has a wide variety of volunteer opportunities for all skills and interests. You can pick up a hammer, mentor a family, volunteer in the office or simply donate. Tolearn how to get involved visit their website at www.habitatskc.org